10 (More) Things To Do In Orlando With Kids
by Michelle Rise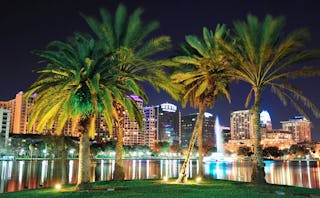 As the top vacation destination, people from around the world flock to Orlando like birds flying south at the first sign of a cool breeze out of the Arctic. But there's more to Orlando than that famous theme park. Here are ten other kid friendly reasons why Orlando continues to be a top family destination…
1. With shows like Game of Thrones and Vikings dominating our TV screens these days, unique spectacles like Medieval Times Dinner & Tournament are a guaranteed hit. The Orlando 'Castle' is impossible to miss and excites the whole fam before the show has even begun. From the decorations, to the staff, and the horses in the show – everything is decked out in Medieval attire.(Warning to anyone with really little ones or sensitive ears – it can be quite loud and overwhelming…both the show itself and its onlookers.)
2. Discovery Cove is not as well-known as Sea World but is more than something kids and their parents can enjoy together. Hands on lessons in marine life, including a swim with dolphins, make Discovery Cove a hit among curious kids. Shy kids come out of their shell when Dolphins swim up and smile making the experience shared with parents a treasure.
3. For the truly adventurous family, you definitely need to check out iFly Orlando, an indoor skydiving experience that creates true free fall conditions, just like skydiving, without having to jump out of an airplane. Kids ages three and up, along with their parents, can participate. That way, Mom won't have a heart attack watching her child feel the thrill of free falling. After all, he isn't actually jumping out of a perfectly good airplane from five thousand feet above the earth.
4. Don your helmet and buckle in for racing like you're driving a sponsored car at the Orlando Grand Prix. One great thing about Orlando Grand Prix is the entire facility is indoors and fully air conditioned, something any parent can appreciate while in central Florida. Two tracks and size appropriate carts are designed for different experiences. Enjoy challenging family members or friends to a lead footed race for the finish line.
5. The International Drive I-Ride Trolley is one of the best tips you'll ever get. Parents don't have to sell their first born for a parking spot and the kids have just as much fun on the Trolley as the actual destination. Whether you have plans for shopping on I-Drive, dining at Dave & Busters, or you're heading for WonderWorks – you'll be thankful you chose this option.
6. In the continuing interest of staying indoors and cool on a hot steamy afternoon, visit Ripley's Believe It or Not! Odditorium. Rather than reading odd facts in a book, you can stroll through and interact with mind boggling displays of all things strange and weird, yet true. Kids, whether mildly curious or all out nerds about learning, love this mind blowing museum.
7. Choose a hotel that offers entertainment as well as beds and breakfast. Use a day or two of your time in Orlando to kick back and recharge while the kids enjoy the pool or playground. One of our family's favorites is the Pirate Plunge pool at Orlando's Lake Buena Vista Resort & Spa. The kids still get to enjoy the day and Mom and Dad get a chance to rest from the exhausting that comes with family vacations.
8. If camping at Disney's Fort Wilderness, attend the nightly campfire and movie night with Chip and Dale. Enjoy an evening under the stars while eating hotdogs, roasted marshmallows and drinking hot chocolate while a (what else?) Disney movie is shown on a big screen. Chip and Dale, along with other Disney favorites, come out of the woods for some frolic and photo time giving campers a relaxed moment for character interaction. The fun begins nightly at 7:30, weather permitting.
9. Florida's famous beaches may be quite a trek from Orlando but don't forget our gorgeous natural springs. Within a few miles of Orlando, is Blue Springs State Park where manatees swim and who wouldn't love seeing those gentle giants in their natural habitat? Slow down and take a glass bottomed boat tour and experience a stunning side of Florida often overlooked in the theme park and beach rush. Canoe or kayak at Wekiwa Springs State Park for an entirely different Florida experience. Bring a water proof camera. You'll want to snap photos of all the beauty as well as prove Florida is more than theme parks and beaches.
10. Legoland. Last, but not least on our top 10, is Legoland. Honestly, what kid, boy or girl, doesn't love Legos? Legoland is like visiting your dream Lego creation in person, complete with moving parts and characters. There is even a Lego roller coaster so if your favorite guy or gal loves the ever popular classic container of Legos, visiting Legoland is an absolute must. While not actually in Orlando, it isn't too far away in the nearby Winter Haven and well worth the short drive.
So as you can see for yourself, Orlando may be world famous for theme parks, mice and wizards, but has so much more to offer for family bonding time. Don't be afraid to step out of the bubble and enjoy all there is to see and do in Orlando, also known as City Beautiful.
More Orlando tips here!
This article was originally published on