10 Morning Rituals of People Who Are More Successful Than You Are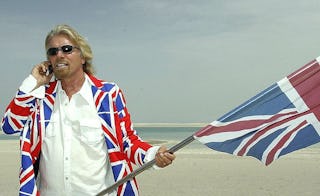 The Muse looked at the morning habits of some of the world's most successful people, in the hopes that we could learn something from them and then build our own empires; that, or just accept that this is the reason we don't have empires, and enjoy our extra sleep.
1. Richard Branson (Founder of the Virgin Group)
Here's an example we can all follow: Before he sits down for a healthy breakfast, Branson goes for a swim around his island or goes kite surfing, then plays a game of tennis.
I think the point here is getting healthy exercise, and then having a good breakfast. In terms of a habit we can emulate, he leaves his curtains open and wakes when the sun comes up at 5:45 a.m.
2. Jack Dorsey (Co-founder of Twitter and Square)
I get exhausted just thinking about it, but Dorsey gets up at 5:30 a.m. to meditate, then takes a six-mile jog. He's only 38 and already has a net worth of about $2.5 billion, and it seems like he's got that mind-body thing going too. Smart.
3. Arianna Huffington (Founder of the Huffington Post)
Like Dorsey, Huffington is a fan of meditation. She makes sure that she gets lots of sleep (which also helps keep your brain young and fresh) and then spends 30 minutes meditating. A firm believer in the practice, her company offers weekly meditation, breathing and yoga classes throughout the week for its employees. The newsroom even has nap rooms, which sounds lovely.
4. Tim Armstrong (Chairman/CEO of AOL)
Another early riser. He's up at 5:00 a.m., reading and getting in a workout, then plunges right into work, testing products and going through his email. He says he tries to wait until 7:00 a.m. to start responding to his emails, in deference to the schedules of others, but doesn't always succeed.
5. Peter Jones (Investor on Dragon's Den, British version of Shark Tank)
Jones already had his sights set on being a millionaire when he was a teenager, so maybe it's the teenage influence that keeps him from having a prolonged morning ritual. In just 20 minutes, he squeezes in a shower, shave and cereal, then scarfs down a cappuccino and starts checking sales figures while he's on his way to work. I hope he remembers to wash behind his ears, though, because that sounds like a very short shower.
6. Mark Zuckerberg (Chairman/CEO of Facebook)
He's not up until 8:00 a.m.! Finally, a slacker, albeit a slacker whose personal wealth is estimated at $35 billion, despite his one-dollar-a-year CEO salary. He's also a college dropout, but you don't have to tell your kids that. (Just don't let them watch The Social Network.) Zuckerberg saves valuable time by wearing the same t-shirt to work every day, a habit that was also shared by Steve Jobs and Albert Einstein.
7. Lord Alan Sugar (host of the BBC version of The Apprentice)
If he doesn't have to be in The Apprentice boardroom at 5:00 a.m., he takes a 50-mile bike ride around the countryside in Essex. Not too shabby for a 68-year-old. These people are making it increasingly difficult for me to keep saying that I don't have time to exercise every day. Fifty miles! Yeesh.
8. Tory Burch (Fashion Designer, Chairman/CEO of Tory Burch LLC)
She's up at 5:45 a.m. every day, and jumps right into her email. She's a mom, so next on her list is getting her three sons up and out of bed. Then somehow she finds time to exercise for 45 minutes, even if it's just a walk. That actually sounds sort of nice, except for the 5:45 a.m. part.
9. Indira Nooyi (CEO of PepsiCo)
This doesn't sound nice at all: Nooyi is up at 4:00 a.m. and makes sure she's at the office before 7:00 a.m. That's probably why she's the CEO of PepsiCo, and I'm not.
10. Simon Cowell (The X-Factor Creator and Judge; original Judge on American Idol)
This one's guaranteed to make you feel better about yourself as well as any teenagers you might have around. Cowell hits the snooze button twice, then instead of springing out of bed and riding 50 miles or swimming around an island, he has his breakfast served to him: hot water with lemon, papaya juice with lime, oatmeal, tea (he's British, after all), and three smoothies. I don't know why he needs three, but he does.
So there you have it! You can start training yourself or your kids now if you want them to be uber-successful millionaires. But once you make it big, please build your employees a nap room.
This article was originally published on