The 10 Most Interesting Celebrity Baby Names Of The Past Year
by Rita Templeton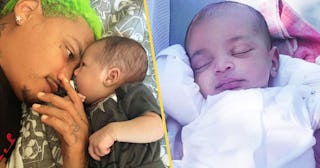 Amber Rose/Instagram and Kim Kardashian/Instagram
Celebrity baby names definitely run the gamut. Some famous parents give their kids regular-kid names … but the celeb parents on this list are not those celebrities. No, these celebrity moms and dads have chosen baby names that are as attention-grabbing as a good PR move. We're not saying they did it for the exposure — after all, lots of parents choose unique baby names they hope will make their kid a standout. But the most interesting celebrity baby names of the past year have certainly raised eyebrows, if not made headlines.
Here, in no particular order, are our picks for the top ten most unique celebrity baby names of 2019-2020 so far.
1. Raddix Chloe Wildflower
We started out 2020 with a shock: the Instagram announcement that Cameron Diaz and Benji Madden were new parents! And while there are no photos of their bundle of joy, there was plenty to talk about — like her name. Having two middle names may be a Madden family tradition, as Benji's brother Joel also gave two middle names to his children (Harlow Winter Kate and Sparrow James Midnight). Wildflower could be a nod to Cameron's bestie Drew Barrymore, whose memoir bears the same name.
2. Huckleberry Randolph
One could say that the baby name country singer Randy Houser and his wife, Tatiana, chose is a little bit…well, country. We've heard of a lot of babies named Finn, the surname of the most famous Huckleberry of all, but not many people choose the first name. If he'll be Huck for short, it will match the four-letter, one-syllable cadence of his only sibling: older brother West.
RELATED: Adventurous Names For Trailblazing Tykes
3. Roody Rocket
Singer Allen Stone and his wife, Tara Lawson, welcomed little Roody Rocket to the world in March of 2019. The name Rudy is currently #822 out of the top 1,000 names for boys on the Social Security Administration's baby name popularity chart (and it's been on a steady rise since 2014), but the "Roody" spelling — paired with the energetic-sounding middle name — is what makes Stone and Lawson's version a standout.
4. Patch Shepherd
American Idol winner Phillip Phillips and his wife Hannah became the proud parents of baby Patch Shepherd Phillips in November. Neither name is in the top 1,000 most popular baby names, but Patch is especially unique. No word on how they came up with it, but we have to wonder if it was at all influenced by the true story of Dr. Hunter Doherty "Patch" Adams, portrayed in a 1998 movie by Robin Williams.
5. Slash Electric Alexander
https://www.instagram.com/p/B4Yb2qInUsd/
In November, model Amber Rose and boyfriend Alexander "A.E." Edwards named their brand new son after iconic Guns N' Roses guitarist, for whom Amber has publicly declared her affinity. "G.O.A.T Slash is the greatest guitar player/ Musician of all time I don't give a fuck who came before him or after," she wrote on social media. And recently, she debuted a new tattoo that says "Slash" and "Bash" — a nickname for her older son, Sebastian — on her face. As one does.
6. Rellie Evangeline
The fifth child of country crooner (and The Voice alum) James Dupré (and first for his wife, Kelsie) was given the name Rellie Evangeline. The Rellie part remains a mystery, but at least we know why her middle name is Evangeline: it's a nod to where James grew up, Evangeline Parish, Louisiana.
RELATED: Baby Name Inspiration From The Most Unexpected Places
7. Sundance Leon
Continuing with the trend of country singers who choose out-of-the-box baby names is lead singer of the trio Midland, Mark Wystrach, who welcomed daughter Sundance Leon with his wife Ty Haney. They're calling her Sunny for short, which is a little more traditional. But the name Sundance, nor the name Leon — for a girl, anyway — are not.
RELATED: 20 Girl Names That Were Originally More Popular For Boys
8. Osian Lark Elliot
Actress Milla Jovovich and husband Paul W.S. Anderson gave their daughter a "boy name" too … though it's not immediately recognizable in the States as such, since it's a Welsh name: Osian (pronounced "ocean"). On the baby's multiple middle names, Milla chalked it up to her family not being able to agree on just one, adding, "At least she has many to choose from later in life if she wants to drop a few."
9. Cashmere Saint
Carolina Panthers quarterback Cam Newton and his girlfriend, Kia Proctor, are no strangers to choosing interesting names: their older children are Camidas, Chosen, and Sovereign-Dior. Compared to those, Cashmere Saint seems almost mainstream … especially Saint, since — thanks in large part to Kim Kardashian and Kanye West's son (born in 2015) — that name has now cracked the Social Security top 1,000 and is currently standing at #859.
10. Psalm Ye
And speaking of those adorable Kardashian-West babies, we'd be remiss not to add another one of their famously unique names to our list. That's right: Psalm Ye. When your parents are constantly making headlines — and your siblings are North, Saint, and Chicago — you kinda need a name that nobody will find in the pages of a baby name book. Yet.
Celebrity baby names range from the everyday to the "they-named-their-baby-what?!" But whether you like names that are at the top of the popularity charts or ones that are definite outliers, you've got to agree that these celebrity baby names are ones you won't find in every classroom. Until they catch on with the general population, that is.
Searching for the perfect baby name? Scary Mommy's baby naming section has you covered with a comprehensive name database, articles that solve your biggest baby naming dilemmas, and fun, inspirational lists!
This article was originally published on