Things To Do In Philadelphia With Kids
by Tara Lyman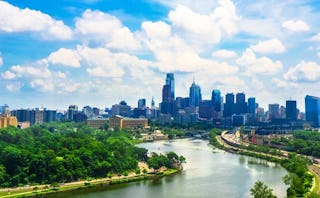 Philadelphia is a historic and charming city to visit with kids or solo. There are plenty of museums, attractions, unique playgrounds, and open spaces for the whole family to enjoy. Whether you find yourself planning a trip or you're a local looking to keeping little ones entertained, here are some of the best things to do in Philadelphia with kids. Fun for all the family, practically guaranteed!
Best Places to Stay in Philadelphia
The hotel choices, even with kids, is practically endless in Philadelphia. If you're looking to add to your hotel reward points (free hotel room for another trip w out the kiddos?), there are two new hotels to try: the Element Philadelphia and the very modern W Philadelphia (check out the pool with a view!). Also, noteworthy is the Loews Philadelphia Hotel located inside what was the nation's FIRST sky-scraper; history at its best.
If no hotel is kid-friendly enough for you, and you need your own house or apartment (mini kitchen? kids get their own bedroom?), Airbnb has some of our all-time favorite spots — from a Trinity home in the city center to a 4 bedroom home with stellar views to a museum district sanctuary.
How to Get Around Philadelphia
This is a walking city, especially if you're staying in the downtown area, and the public transport system is fantastic here (the trains could be part of the fun if you don't live somewhere with a train system). If you do want to visit places further from downtown, Hertz has pickup locations at the airport and nearby.
Best Experiences in Philadelphia for Kids
We know you used to enjoy exploring town at your leisure, but let's be realistic and accept that you're with kids and kids need a plan. Put down their tech devices (and yours) and plan a few special experiences that are unique to Philly. Everything from a historic walking tour of Philly to a Colonial Discovery tour to an underground donut tour (YUM!) can be booked beforehand.
Kid Friendly Philadelphia Attractions
Learn about the history of our country and see the Liberty Bell in person. The Liberty Bell Center is located on Market Street between 5th and 6th Streets. The building is open year round, though hours vary by season. Tickets are not required and this one is free, too! Read reviews for the Liberty Bell.
The Philadelphia Zoo is America's first zoo. It has 42 acres of Victorian gardens that are home to more than 1,300 animals including many rare and endangered. There are fun other extras, too, like the Carousel, the Zooballoon rides and the Express train. A must-visit while in Philadelphia with the kids! Open seven days a week, 9:30 a.m.-4:00 p.m. November- February, 9:30 a.m.-5:00 p.m. March-October. Admission: $24 for adults, $19 for kids 2-11, kids under 2 are free. Read reviews for the Philadelphia Zoo.
Sesame Place is located just outside of Philadelphia in Langhorne, PA and is a great family theme park that brings Sesame Street to life for little ones. They have great summer and holiday specific events, so check the site before you plan a visit. Open seven days a week 10 a.m.-8 p.m. during the summer, hours vary outside the summer months. Admissions: Adults pay $45.99, kids 2-9 pay $37.50. Read reviews for Sesame Place.
Playgrounds in Philadelphia
Kids Castle is an eight story wooden playground located in Doylestown, PA. It's 35 feet high with a huge twisty slide, a friendly dragon, a tree house, a barn yard, a rocket ship, a downtown promenade for toddlers, lots of slides and swings and a children's amphitheater. The best part? It's all FREE! There's nothing else quite like it. Read reviews of Kids Castle.
Smith Memorial Playground & Playhouse offers a free, safe place to play for children 10 and younger. Located in East Fairmount Park, the playground includes the Ann Newman Giant Wooden Slide and more than 50 pieces of unique, age-appropriate and accessible pieces of play equipment. The 24,000 square foot Playhouse, designed for children 5 and younger, gives them a chance to "drive" the train, "cook" in the kitchen, ride tricycles in Smithville and much, much more. Open 10a.m.-4p.m. all week.
Kid Friendly Museums in Philadelphia
Located in the Wynnefield section of Philadelphia, the Please Touch Museum is the country's first museum designed for children ages seven and younger. The museum contains nine interactive exhibits for children to enjoy and there is also the Playhouse Theater the whole family can take part in. There's so much to see and do in this museum, so you definitely want to get there early to get in a full day of fun. Open 9a.m.-5p.m. everyday except for Wednesday (10a.m.-5p.m.) and Sunday (11.a.m.-5p.m.). Admission is $19.95 for adults and children, infants under 1 go free.
The National Museum of American Jewish History is dedicated to preserving and interpreting the American Jewish experience. Philadelphia is a historic city, so why not have the kids indulge in a little history while they're here? Just note that all children under 13 must have an adult chaperone and tickets have to be booked in advance. They are flexible and will admit you if you are late for your scheduled time, though! Open 10a.m.-5p.m. Monday-Wednesday, 10a.m.-7p.m. Thursday, and 10a.m.-5.30p.m. weekends. Admission to the museum is free but special exhibitions have an admission fee.
Outdoor Activities in Philadelphia
If you decide to wander the city, you must visit the Comcast Center located at the northwest corner of 17th and Arch streets (also accessible from Septa's Suburban Station.) The Comcast Experience Video Wall is the largest four-millimeter LED screen in the world and is sure to make any kid's visit to Philadelphia a trip worth remembering. It usually starts every hour and lasts about 15-20 minutes. The shows vary depending on the holiday or season, but are always worth a visit.
"Best of Philly" awarded Trolley Car the Best Kid-friendly dining in 2009. The Rock-and-Roll-inspired diner serves breakfast, lunch and dinner. The Trolley Car ice cream shop operates out of an iconic 1948 PCC trolley car and offers an exhaustive list of ice cream, water ice, sundaes and shakes. YUM! Open 7a.m.-9p.m. Monday-Thursday, 7a.m.-10p.m. Friday and Saturday and 8a.m.-9p.m. Sunday.
Reading Terminal Market is an enclosed public market at 12th and Arch streets in downtown Philadelphia. There are hundreds of stores and eateries offering local produce, delicious homemade food and homemade goods, open daily. (The Pennsylvania Dutch shops are closed Sunday through Tuesday.) Make sure to keep an eye on your kids because it can sometimes get crowded and bathroom lines can get long. Tip: Sweet as Fudge Candy Shoppe makes the most delish homemade fudge and they have candy both kids and adults will love! Open 8a.m.-6p.m. everyday.
Franklin Square is a fantastic place to spend a nice Philadelphia afternoon with the kids. Depending on the time of year there are tons of events happening in the area, including the Franklin Square Fountain Show which is breathtaking. Open 10a.m.-7p.m. Monday-Wednesday and 10a.m.-9p.m. Thursday-Sunday. Read reviews for Franklin Square.
Are your kids climbers? Treetop Quest Philly is a great adventure park for kids (and grown-ups!) of all ages who want to spend time in the Great Philadelphia Outdoors. Soar through the trees via zip line or make your way through many an obstacle course. The park's hours work on a seasonal basis so be sure to check the site before your visit.
Best Things to Pack for Philadelphia
Packing for the whole family? Lol, of course, you are. For a trip to the City of Brotherly Love, there are a few essentials that are always worth having on hand, no matter what time of year it is.
First up: Packing cubes. There's really no better way to keep everyone's stuff separate and organized. You can divide by day and by family member and then sort dirty laundry from clean, unworn items! Philly is, of course, a city with a very rich history, so there will be plenty of walking to historical spots: Packing a pair of cute-but-comfy shoes to wear from sightseeing to dinner is a very smart play (who wants to wear heels after all that walking, anyway?). Also perfect for packing: A versatile, un-basic open front cardigan that's chic and comfy enough to wear during the day, evening, or while traveling. As moms, schlepping stuff comes with the territory, so make it easier with a crossbody bag that's stylish but still roomy, with compartments and pockets for things like water bottles and more.
Whether you're walking around in cold-weather layers or strolling in summertime (Philly heat can get up there), the right natural deodorant will keep you comfy and dry–especially when the kiddos inevitably start arguing over something insane. Don't forget the family's toothbrushes, we bring our Philips Sonicare electric toothbrush with travel case everywhere.
And just in case there's a scuffle, or someone trips and scrapes a knee, or who knows what, packing a first-aid kit with all the immediate minor emergency essentials is always a good idea wherever you're traveling. You hope you won't need it, but you'll never be sorry you brought it. Now stuff that into your vacation travel bag (on wheels, of course)!
Although we only recommend picks we really love, we may earn a commission on purchases made through links from our site.
MORE: Must-See Spots in St. Louis for Kids
Best Things to Do in Cincinnati With Kids
Top Attractions in Boston for Toddlers
This article was originally published on