10 Netflix Shows To Binge On For National Repeat Day
by Maggie May Ethridge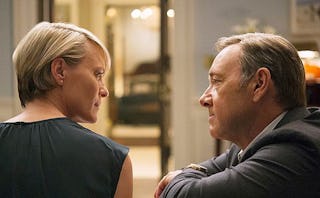 1. 30 Rock
Tracy Morgan's recent interview with Matt Lauer is especially heartbreaking if you know him from 30 Rock as the wonky, off-the-hook, hilarious, unexpectedly devoted comedy frontman for TGIF. Everything about this show is the best, from Jack Donaghy's eyes ,so piercingly blue they could carve through a shark cage, to Liz Lemon's penchant for Mexican Cheetos. Not only is this impeccably cast show hilarious, it's also unexpectedly touching.
2. Brothers and Sisters
Unabashedly a soap opera, this show has a predictable setup—large, dysfunctional yet still loving family—but still manages to reel you in quickly. Sally Field is perfect as the family matriarch, and her amazing-looking brood of children couple and uncouple to your heart's content. Rob Lowe and Calista Flockhart are beautifully paired as a troubled but powerful husband and wife, and Rachel Griffiths is, as always, intriguing to watch with her sharp-eyed expressions. I watched this entire series with my 13-year-old daughter and we felt very mopey when it ended, despite the 75 episodes provided!
3. The West Wing
Another show I watched over the months with my older daughter, The West Wing is just so good. The first few seasons are really the prime of this intelligent show, created with the fast-paced dialogue we expect from Aaron Sorkin, and an ensemble cast that kicks ass. Martin Sheen is a marvel as the president. Every character is interesting and the balance between their personal lives and the life of the uncredited cast member of the White House is perfect. And Allison Janney as C.J. Cregg is a complete feminist delight.
4. Ally McBeal
Like The West Wing, Ally McBeal really shines in the first few seasons. Watching it now, it's easy to see why it took American television by storm at the time of its release in 1997. Calista Flockhart and David E. Kelley combined to create a unique character in Ally McBeal, a dreamy professional who regularly enacts dance routines in public and sees a hilarious therapist who makes her choose a life theme song—something we really all should do, don't you think? The dance scenes in the unisex bathroom alone are enough reason to watch.
5. Family Ties
"What would we do, baby, without us?" I love this show. It has Michael J. Fox in the bouncy, quick-talking, narrowed-eye twinkle of his youth as one of the '80s most charming characters, Alex P. Keaton, the consummate Republican. The family of three children, led by two hippie parents in the suburbs, radiates goodness, charm and just enough quirk to avoid mundanity. Adorable and comforting.
6. Gilmore Girls
The best show about a mother and daughter ever. Set in a small, bucolic town, the show features a cast of oddball characters and smart, hilarious dialogue. A single mom who had her daughter as a teen, Lauren Graham is awesome as Lorelai, the mother of Rory, a bookish girl who wants to grow up and be an investigative reporter. The literary references that litter this show are gold.
7. Friday Night Lights
I clicked play on this show late one restless night and never looked back. The famous story of a small Texas town obsessed with football has one of the most memorable family units in television history: Kyle Chandler and Connie Britton just crush it as the coach and his stay-at-home wife. The show tackles racism, poverty, teen sex and crushed dreams like no other.
8. Sherlock
This show is so beloved in my house that my daughter has a full-size Sherlock poster on her door. Benedict Cumberbatch just nails it—you can't take your eyes off of his wonderfully bizarre, screamingly smart Sherlock, and Martin Freeman as John is the perfect slightly baffled sidekick. Their friendship is so much fun to watch unfold, as are the murder-mystery plot lines.
9. Arrested Development
Flat out one of the funniest, most comedically satisfying shows ever. Watch it and love it and quote it for the rest of your life. Never Nudes Unite!
10. House Of Cards
Kevin Spacey and Robin Wright are the leads in this crisp, beautifully filmed show about a soulless politician and his CEO wife. Evocative, smart, sexy and at times truly disturbing, this is a smart, addictive show.
This article was originally published on