10 Reasons to Take Your Child to the Racetrack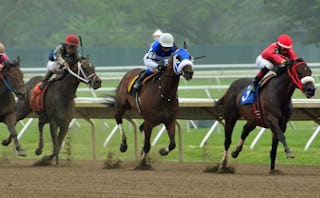 Now that we're deep into winter, it's time for one of my favorite family rituals: taking my son to the racetrack.
It started four years ago, one bright, cold winter day in Manhattan, when he was six and I had run out of things to do with him. We had done the museums and theaters. We'd thrown a lot of snowballs and built a lot of snowmen. Even he was over it. As for the movies: I couldn't bear to put on another pair of black-rimmed 3D glasses. We needed a change. So I called my then 81-year-old father in Brooklyn. "Okay," I said. "It's time."
My dad has two loves: his fast-food concession on the Coney Island boardwalk and, off-season, the horses. He had been waiting for this call for years, for the day when he could "take the little guy to the racetrack." That's how we ended up in South Ozone Park, Queens, at Aqueduct Racetrack. Although I had always dismissed the idea whenever my dad suggested going, it turned out to be the perfect place for a first-grader. Now we try to go every winter. Here's why you—and your kids—will love it too.
1. No Inside Voice
The concept of an Inside Voice does not exist anywhere at the racetrack. Your child can speak as loudly and enthusiastically as he pleases without getting looks from the other patrons, most of whom are too busy shouting, cheering and jeering to notice him at all.
2. Improved Math Skills
Forget flash cards: There's nothing like real money to make a kid pay attention. My son carefully kept track of and accurately added up his winnings after all nine races. He didn't miss a penny. Asking older children to figure out how much a $2 bet on Quiet Giant pays in the 8th if the odds are 7 to 2 can be a great math challenge. Not to mention the intricacies of the Daily Double, Triple, Exacta, Trifecta, Superfecta, Pick 3 or 6, Quinella and boxing your bets. This may be just the fix for America's dismal math scores.
3. It Brings You Back to Nature
Another concern is the lack of nature in our children's lives today, which has been linked to everything from obesity to ADD and depression. Can't make it to the country? Consider the racetrack. Some have beautiful grounds with picnic areas for families. But even at Aqueduct, you're outside in the fresh air and sun, watching beautiful animals run. If bowling on a Wii console is exercise and ketchup is a vegetable, going to the races counts as a nature trip.
4. Vocabulary Expansion
Every now and then, there's something to be said for letting a child stay up super late, get really dirty, eat cotton candy, and get it all out of his system. After a couple of races, my son walked over to me with a blissful look on his face, as if he'd fallen in love, and whispered conspiratorially, "Lots of people are using bad words." I looked up. The almost entirely male crowd was shouting everything from obscenities to entreaties. My son was so grateful, I haven't heard a bleep out of him since.
5. You Might Get Lucky
Take a chance. You never know. My son won $124.80. Okay, his grandfather spent twice that to get it for him, but that's what grandfathers are for. You might win big. People do.
6. How to Handle Losing
Let's say, for argument's sake, that you don't win big. In fact, let's suppose that you lose—a lot. How do you deal with that? Now's your chance to show your kid what you're made of. Losing is a big part of life. How to gracefully handle it is one of the biggest lessons a child can learn.
7. Heart-Pounding Excitement
Win or lose, it gets you going. Just reading the names is fun. That first day, we all bet on Seeking Anita (No. 2, 6-1 odds) in the sixth because a friend of ours was named Anita (it's gambling, not science). When the bell rang and the horses leapt forward, it was thrilling. At first Seeking Anita was way behind, but in the last few minutes of the race, she started pulling ahead until she was just a nose behind the frontrunner, Mystic Era. We screamed along with everyone else, "Come on, No. 2! Come on, Anita!" and jumped up and down when she won.
8. It's History
Going to the races is like taking a step back in time, and it won't last much longer. Let your high-tech child experience an old-fashioned sport while he can. Part of Aqueduct is now a "racino" with gaming machines, fortunately separate from the racing. But the track and the horses are the same as always, and you can still place a bet with a teller. Yes, the facilities are run-down and the crowd can be seedy. None of that bothers my son or me a bit. I think a little grittiness is good for a child, and there aren't that many authentic places left in our ever-gentrifying world.
9. It's Free
Sort of. Or it's very expensive. It's your call. You don't have to bet—although you'd be missing half the fun and a chance to improve math skills (see #2, above). If you only make a $2 bet on every race, it can be cheaper than going to a 3-D movie, and you don't have to wear those stupid glasses. And no matter what, it'll always be cheaper than skiing. Where else can you enjoy a live sporting event for so little?
10. You'll Never Forget It
Turns out my dad was right about the track. All the movies and exhibits are a blur, but that first wintry visit will stand out in my mind forever. When I mentioned at work that I'd taken my son to the racetrack, my boss confided that one of her fondest memories as a child was going to Belmont once a year with her entire family. They would bring a cooler, have a picnic and watch the races. She loved the tradition so much, she continued it with her children. Almost every time I recount that day, someone tells me how much they loved going as a child.
It's not always easy to connect with kids, to find common ground. My son and his grandfather sat outside in the stands, piles of snow around them, seagulls overhead, and compared notes. My father checked with his grandson before each race. "Why do you like those?" he asked. "They're the Morning Line Favorites," my son said, pointing to the list at the bottom of each race in the program. "Look at that," my dad said. "He got the hang of it right away." I hope I don't have to stand up someday in a Gambler's Anonymous meeting and share my part in my son's downfall, but if I do, at least I'll have the memory of the two of them, heads together, picking horses.
© Courtesy Valerie Georgoulakos
This article was originally published on