10 Resolutions We Should All Make (And Keep) This Year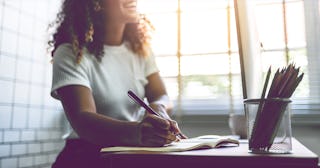 Scary Mommy and Aekkarak Thongjiew/EyeEm/Getty
I am sure there will be some people standing in Times Square in New York City to ring in the New Year — even if they're standing alone masked and ushering in 2021 six feet apart from one another. It may be snowing or raining, or at this rate, it may be 80 degrees — who knows! But I do know that there will be thousands, if not more, people making resolutions to undo what happened the year before with a renewed commitment to go to the gym, lose weight, quit smoking, save more money, spend less money, read more, learn a new skill, and the list goes on.
We all know this shit rarely survives past the second week of January. I've been there. But this coming new year, as we head into 2021, it feels vastly different than the year's past. Today, it feels like our lives depend on sticking to and changing the stale unfinished resolutions from 2018, 2019, 2020, and stepping into 2021 with a "will do" attitude. Here are 10 resolutions we all should make and live by so we can be better people.
Buy from small businesses.
While some businesses are closing down, others are not — buy something from them. Your community needs you right now, so when you choose to spend your money, look at where you are spending it. Show up for the couple who own the local hardware store, order takeout from a family-owned restaurant, expand your view of where you can shop and who you can buy from.
Shop at your local independent bookstore.
Bookstores have long been one of my favorite places to be. So many of them are trying to hang on these days, that every item bought in their store helps them to keep their doors open. If you cannot get to your local store or you don't have one, at least buy from bookshop.org.
Attend a town hall meeting.
Listen to what is happening in your community, learn, and use your voice. We must all participate in what is happening in our communities because when we know better, we do better (says Maya Angelou).
Donate.
Even if you're strapped for cash right now, a donation does not have to be money; it can be time or other resources! Give to local organizations that are making an impact in your community or state. Get your kids involved, clean out your pantries and give to a food pantry, volunteer to feed the homeless, take your kid out on a Midnight Run, check with your local hospitals and see what they need (games for pediatric patients, more masks, etc.)
Support small businesses (not just Amazon).
Especially those owned by people of color and women. When we support businesses owned by women and/or people of color, we help them keep their doors open. You can even safely buy online from one of these businesses owned by women and/or people of color: Thistle Farms for example, where every purchase helps women survivors of trafficking, prostitution, and addiction.
Use your voice.
It may seem so exhausting (and it is, I say this as a Black woman) to keep talking about race, about community, about humanity, but we can all learn from one another and we can do so in a calm, intelligent, mature way. Keep using your voice, speaking your truth, and educating others about the facts.
Find ways to participate.
No matter which party you identify with, or who you think won (or didn't win) the presidential election, participate in your local government. You should understand and know who your local politicians are, email them, call them, rally with them – get to know who you are voting for, and what they're trying to do for your community before election day.
Read – or maybe join a book club – and diversify your bookshelf.
Book clubs aren't just for white women or stay at home moms and neither is reading. We all should read, learn about diversity and pick up a book like Caste or The Day You Begin or Finding Latinx or What If Wilhelmina — open up your heart and mind to what life is like for people who don't look like you, whose families are different than yours, and join the Scary Mommy Book Club. Keep in mind that the way we go about being in the world is different for each of us; reading books can take us into the lives of others and teach our kids the same.
Put your money to work for you.
You've heard the advice "pay yourself first," and if we've learned anything in 2020, it's to save our money for the unexpected (like COVID) and not depend on anyone else (like the federal government's promised stimulus checks) to save us. Invest your money in something. Not sure what? Learn how and what to do from some of these badass women: The Budget Mom, The Budgetnista, or listen to Paula Pant's podcast about how to live free from debt.
Commit to more random acts of kindness.
Check in on your neighbors, see if they need anything. When you're in your local Starbucks line, pay for the person behind you, say hello when you pass by someone, hold the door open for the next person, and the list goes on. You can do whatever feels right for you. But we all can step up our game to be better humans to one another.
We have no idea what 2021 has in store for us, but it cannot possibly be as depressing as 2020 (fingers crossed). We have President-elect, Joe Biden and his Vice President-elect Kamala Harris preparing to lead our country back to some semblance of normalcy. We have a new vaccine to help protect us from COVID-19. So get outside, wear a mask, and walk into 2021 knowing that we all have a part to play.
Let's get to work! We can all make a commitment to lead 2021 with intentions on making our world for ourselves, and our kids, a little bit better.
This article was originally published on