10 Signs You're Overdue For Date Night (Sponsored)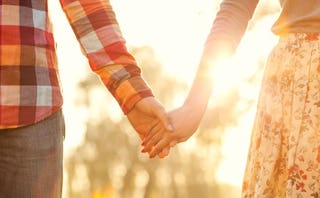 Whether you're the type of mom who's skittish about leaving your kids at home or the type who's poised by the door like an Olympic sprinter waiting for the sitter to arrive, everyone needs to get out of the house for date night once in a while. Date nights are essential for reconnecting with your significant other, for reigniting the kind of passion that's hard to rekindle while you and your sweetie are flanked on the couch by piles of unfolded laundry, and for reminding yourself that there are still places on earth where you're not responsible for cutting other people's meat or reminding them to go potty.
Some couples need to have a standing weekly rendezvous at a favorite restaurant, while others prefer to hit a new club, concert or upscale winery whenever the mood happens to strike. Either way, watch out for these signs that you've waited too long to schedule some adults-only time; if any of these things happen, you're way overdue for a date night.
1. You thought your husband was whispering sweet nothings in your ear once, but then you realized you'd just dozed off on the couch at 9:15 with your head next to the staticky baby monitor.
2. You start fantasizing. No, not about hunky celebrities or moving into a fancy mansion with a maid and a nanny and a 400-square-foot soaking tub. That's to be expected. The relationship red flags don't start flying until the fantasies that really make you hot include stuff like eating food while it's still warm (mmm, baby) or sitting in a room where no one's screaming about their socks being uncomfortable (oh, yeahhh, you know what I like).
3. Making an effort no longer involves makeup and heels, but instead involves occasional monumental feats like changing out of your PJ pants and old maternity tank top at some point during the weekend.
4. Your memory starts to fail. You can't remember the last time no one in your house had the sniffles or stomach flu. You can't remember the last restaurant you went to where the server didn't bring crayons to the table. Heck, half the time you can't remember your spouse's name.
5. You do, however, remember the last movie you saw in the theater. Unfortunately, the third sequel to that movie is now available at your local Redbox kiosk.
6. You ordered a dress online. But not because you thought you might be getting dressed up to leave the house, you just wanted to guarantee yourself some adult conversation in the next few days — even if it's just with the UPS guy.
7. You assume when your husband says, "Do you want to go out?" he means "Do you want to go have appetizers at the Costco sample carts while we comparison shop for riding lawn mowers and pick up some bulk mayo before we come home and pop some frozen pizzas in the oven?"
8. You got sick at the last party you attended. But it wasn't because you indulged in too much booze at a classy cocktail party, it was because you indulged in too much buttercream frosting at a 5-year-old's birthday party.
9. You find yourself looking for signs of sexual tension between Strawberry Shortcake and Huckleberry Pie on the episode of "Bitty Berry Adventures" your preschooler is watching.
10. You finally call your favorite, standby babysitter, only to find out that since the last time you'd called her she left for college. And then got married. And had a baby of her own.
If you experience any of these signs that date night is overdue, STOP WHATEVER YOU'RE DOING and set something up. For the sake of your relationship — and your sanity — get yourself out of the house!
Date Night Now by Sittercity makes the sitter hunt super simple. Their database includes qualified caregivers in your neighborhood, no need to waste time with phone calls and interviews, they've done the work for you and completed enhanced background checks – hallelujah. Scary Mommy readers can try the service for free (up to 4 hours for up to 2 children) with codes SCARYMOMMYNYC in New York, and SCARYMOMMYCHI in Chicago! Happy date night!
This article was originally published on