10 Things To Do In Antigua, Guatemala With Kids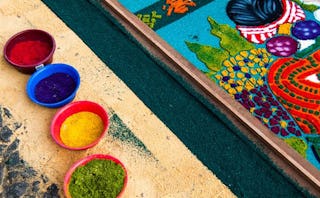 The New York Times recently highlighted 12 things to do with 36 hours in Antigua, Guatemala. They had some lovely recommendations; however, if you're traveling with anyone under the age of 10, you may want a few different kinds of traveling tips. Guatemala offers lots to explore and is a relatively affordable place to travel as a family. As a mama living in Antigua, let me offer a few of our favorite family-friendly activities. In fact, one of them even involves childcare. Because what traveling parent doesn't want a small break from their kiddos?
1. Make Chocolate at the ChocoMuseum
Let's start at the most delightful Chocolate Museum, just a block and a half from the central square in Antigua. The whole family can do this hands-on tour where you learn about the history of the cacao, actually grind your own cacao into some delicious chocolate caliente, and then make your own chocolates to take home. Who doesn't want some extra chocolate on their vacation?! Adults are $24 and kids under 12 are $16. The whole class lasts about two hours, and the guides are bilingual.
Antigua has tons of language schools to pick from, but my favorite and probably the most well-respected is the Christian Spanish Academy (CSA). You can arrange for individual classes or take them together with your partner. They offer an assessment and workbook that you can take home with you to practice once you finish. Get this: they also offer kids' lessons starting at age three! And you can put two kiddos together if they are near the same age and ability. The teachers are trained in age-appropriate games and activities. It's $9.25 per hour for one person or $14 per hour for shared lessons. And you can enroll your kids there, even if you're not taking lessons. For an additional fee, you can live with a Guatemalan family for a week, too. Email information@learncsa.com for more info and special discounts.
3. Enjoy Central Park
Referred to by locals as "parque central", Central Park is right in the middle of Antigua and the best part is, it's FREE. It's great for people-watching, or if you're a toddler, for pointing out the horses, doggies and birdies. You can take a picture in front of the famous fountain built by Diego de Porres or take a horse-drawn carriage ride around the town. There's ice cream and coffee shops surrounding the square, and if you're lucky, you can grab a bench in the shade and drink your cafecito in peace while your kids watch some of the street performers.
4. Eat Good Food in a Family-Friendly Environment
If you're looking for quality ingredients and a family-friendly atmosphere, stop by Escalonia. It's a restaurant and nursery, full of lovely plants, a small pond, and complete with a small play area in the back for kids. This is also one of the few restaurants in town which offers highchairs for little ones and have a changing area in the bathroom.
A lot of parents worry about tummy issues when traveling in Central America with kids. I can say, most restaurants in Antigua are used to catering to foreigners' stomachs and wash and disinfect all produce. But if you are still extra worried, I always tell parents to start their kiddos on some probiotics a few months or weeks before the trip. We use these and our daughter has never gotten sick here from the water or food.
5. Volunteer for a Day at a Local Organic Farm
Caoba Farms is a 15-minute walk from Central Park. In fact, it's just down the street from Escalonia. It's a nice little oasis right in town if you and your family want to volunteer for a day or for a week. You can work alongside Guatemalan farmers, pick some organic vegetables and tour the grounds. My daughter's favorite part has nothing to do with the vegetables, but rather watching the chickens peck for food. They also have a great little market on-site. So if you're not in the mood to volunteer, but just want some local honey, gluten-free bread or are eager to try the super food moringa, then this is your place.
6. Try the Delicacies at a Local Bakery
Dona Luisa is one of the oldest bakeries in Antigua, and you know you're getting close because the smell of freshly baked bread meets you about halfway down the block. They are most famous for their banana bread, but you can also try their almond bread or my personal favorite, chocolate-orange. They also sell bagels, croissants and homemade granola. Everything is delicious. They have a simple but good restaurant on the patio level and great ice cream on the second floor.
7. Swim for a Day at Hotel Antigua
Hotel Antigua is one of the loveliest and most expensive hotels in Antigua, but you can buy a day pass to swim at their resort pool for about $15 for adults and $10 for kids. The pool is heated and one side has a shallow area for toddlers and kids. There is poolside service if you or the kiddos want drinks, smoothies or lunch. Additional bonus: there is a big grassy area and a small playground nearby when the kiddos get tired of the water.
Now, if you're willing to venture 15 minutes outside of town, then you and your family should most definitely try:
8. Go Zip Lining and Visit the Playground at El Tenedor Santo Domingo
Most kids probably won't appreciate the ruins and beauty of this five-star hotel, but if you walk to their front door you can get a free shuttle up to their hilltop restaurant, called El Tenedor del Cerro. You can grab breakfast or lunch on their outdoor patio, which boasts views of all three volcanoes. They also offer one of the best zip-lining courses for just $35. Kids as young as 8 years or 42″ can do it. And for the little ones who aren't quite ready for zip-lining, there is a fabulous playground near the restaurant, probably the biggest one in the Antigua area. The restaurant doesn't take reservations, but the zip-lining company does. Best to call the hotel beforehand, especially during peak tourist season (Dec-April).
9. Spend a Night in a Tree House
What kid doesn't want to sleep in a tree house? Visit Earth Lodge for a family-owned, eco-friendly hotel located on an avocado farm, high above the hills of Antigua. Enjoy delicious, healthy food, breathtaking views and live music on most Sundays. There is a big open grassy space, a playground, a sandbox, and fun hikes to do around the property. It's the perfect place for a mini family get-away. They will also help arrange for a shuttle from Central Park up to their property in El Hato, a community about a 15 minute drive from Antigua. Their tree house rooms fill up fast, so email or call ahead!
10. Cook a Traditional Meal with a Guatemalan Family
De La Gente is a local coffee cooperative about 5 miles outside of Antigua. Besides having some of the best coffee in Guatemala, you can also spend the afternoon learning how to cook a traditional Guatemalan dish, called Pepian (Pep-ee-ahn) and then eat your meal with the family in their home. It costs about $15 per person, and there is a minimum of four people. Contact De La Gente to make a reservation and arrange transportation or hop on a tuk-tuk and ask for "San Miguel Escobar." They also host a few other tours, but this is the most family-friendly.
We all know traveling with kids is A LOT OF WORK. No questions there. But here's to hoping that it enriches your life, broadens your kids' perspective and maybe, just maybe helps them stop complaining when you don't cut off the crust on their sandwiches. I've heard it said that traveling with kids is really just parenting in a new location, and I can assure you there is no better location to parent than Guatemala. Hope you enjoy your visit!
This article was originally published on