Things To Do in Minneapolis With Kids
by Galit Breen and Tracy Morrison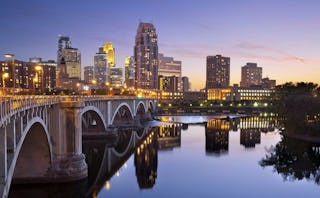 Also known as the Twin Cities (because of its nearby sister city Saint Paul), Minneapolis is a fantastic place to visit with family. With great schools, safe neighborhoods, a plethora of cultural activities, all in a place that's virtually your own outdoor playground, how can you go wrong? Sure, it's not the kind of place where you sit on a beach with a little pink umbrella in your cocktail. In fact, some people think the Twin Cities are under ice year round – we're here to prove you wrong! Here are our favorite things to do in Minneapolis with kids.
Best Places to Stay in Minneapolis
Well, you're going to need somewhere kid friendly to sleep while in Minneapolis, and lucky for you there are great options. If you're looking to add to your hotel reward points (free hotel room for another trip w out the kiddos?), the Hotel Ivy is full of urban charm (and has big city views). Want something more trendy? Then you'll appreciate Towneplace Suites in the Northloop neighborhood downtown. Something close to everything and with a spa? The Loews Downtown checks all the boxes.
If no hotel is kid-friendly enough for you, and you need your own house or apartment (mini kitchen? kids get their own bedroom?), Airbnb has some of our all-time favorite Twin Cities stays — from tree top apartments to Art District lofts to tiny houses.
How to Get Around Minneapolis
If you're staying in the downtown area, no car necessary. This is a walking town. But if you've got a visit to the lakes on your itinerary (please say you do!?!), you'll be needing a car. Hertz has pickup locations all around the city.
Best Experiences in Minneapolis for Kids
Aside from visiting the Mall Of America (we don't judge) there are experiences to be had while visiting here. Put down the tech devices (yours, too) and plan a few eclectic experiences that are unique to the area. Everything from Therapeutic Forest Walks to Pottery Class to Making Mochi to Nordic Spoon Carving (yes we said that) can be booked beforehand.
Museums in Minneapolis for Kids
Dedicate one day to our ever-popular interactive museums. Take a trip to downtown St. Paul and enjoy one of the finest Children's Museums in the country. The Minnesota Children's Museum is committed to children's learning through play from infancy through age 10. Their ever-changing exhibits and family-friendly spaces make this museum a true win.
While you're in St. Paul, take a trip (or three) to explore the incredible Science Museum of Minnesota. Be awed, amazed and crazy-fun educated every time you visit. It's truly for kids and adults of all ages. It's also a great place to eat lunch overlooking the Mississippi River. And to round out this fabulous trio of museums, stop by The Jackson Street Roundhouse. A former steam engine maintenance facility, this historic gem provides a unique opportunity for kids of all ages to experience railroading in the Twin Cities and the Upper Midwest and go on a caboose ride. Such a win!
History in Minneapolis
Set aside some time to get out and explore a bit of history. Take a trip down memory lane at the Minnesota History Center to learn more about the state's history. Then drive 10 minutes down the road to Historic Fort Snelling and step back in time 150 years as they recreate life on America's Military forts.
If you're up for a day-trip, head two hours south of The Cities down to the banks of Plum Creek in Walnut Grove. Your "Little House on the Prairie" fans will thank you. As for your 'lil train lovers, we have more ideas for them! The Twin City Model Railroad Museum is located in Bandana Square in St. Paul and boasts exhibits, models, toys, and a night train. It truly is magical and fun. And over in Minneapolis, the Mill City Museum is a treasure house of information about the intertwined histories of the flour industry, the river, and the city of Minneapolis.
Kids Activities in Minneapolis
We're heading to the zoo, zoo, zoo – how about you, you, you? There is an amazing treasure in the middle of St. Paul in The Como Park Zoo. It's completely free (but donations are always appreciated) where your littles can get up-close to the animals.
There are great spots for picnics, enjoying the gorgeous attached conservatory, and getting some thrills in the summer at the Como Town Amusement Park and Carousel. Once you've left the zoo, wander over to Como Lake for a walk. On the other side of town, the Minnesota Zoo makes for another lovely day trip. Complete with penguins, bears, and shark feedings (oh my!), tropical bird shows, stunning indoor and outdoor trails, a splash pad, a farm, and several parks including an interactive nature-based play area, it's sure to be a hit with your animal-loving little (and big!) ones.
Outdoor Activities in Minneapolis for Kids
Minnesota is the land of 10,000 lakes and many of the lakes are urban, located right inside the cities! The Chain of Lakes located in Minneapolis is a great way to see the city! Go for a walk, a ski, ice skating, a day of sailing, some fun on the beach, a bike ride, a picnic, or a concert – and make sure to stop in some of The Twin Cities' most gorgeous neighborhoods for a coffee or ice cream. Two of our favorites include Sebastian Joe's in Minneapolis and Grand Ole Creamery in Saint Paul.
While you're enjoying our scenic waterways, make sure to check out the Mississippi River walks and views in both Minneapolis and Saint Paul. There's always something new to explore in the great outdoor spaces that our cities have to offer. Minnehaha Park is home to the beautiful Minnehaha Falls, which the kids will love. Where better to take a family snapshot than with a backdrop of a gorgeous waterfall?
Explore The Cities by bike — if you're here in the summer, of course! The Twin Cities of Minneapolis and Saint Paul are home to hundreds of miles of on-street bike lanes, bike boulevards and dedicated paths. Rent a Nice Ride bike and see the towns!
Do you have a sports fan? Seeing the minor league baseball team, The St. Paul Saints, is a fun and affordable evening for everyone! More of a big-league family? The Twin Cities is home to many professional sports teams. Check out the Minnesota Twins for baseball, The Vikings for football, The Wild for hockey, The Lynx for WNBA, The Timberwolves for NBA and The Swarm for all of you lacrosse fans!
Minneapolis Attractions for Kids
The Twin Cities is home to The Mall Of America. As one of the largest indoor malls in the country, the Mall Of America is now one of the top tourist destinations in the nation. With amazing shopping, fabulous food and non-stop entertainment, you'll find something for everyone at the MOA (as the locals call it). The MOA houses its own amusement park with thrills for all, as well as a huge aquarium, a giant interactive LEGO store, and don't forget to visit our American Girl Doll store and IKEA just across the street!
Two of the best children's bookstores are in The Cities. The Red Balloon Bookshop in Saint Paul is a sweet store with a huge variety of books, fabulous story times, red balloons for everyone, and two of the best coffee shops, Cafe Latte and Bread and Chocolate, on the very same block.
The Wild Rumpus in Minneapolis is as unique as they come. Starting with a kid-size purple door at the entrance, going right on through the animal room downstairs and the animals—including chickens and cats—wandering through story times, it's an adventure all around.
The Twin Cities is also home to one of the largest local art scenes in the country. Visit the Walker Art Center and take a walk and picnic at the Sculpture Gardens that provides amazing views of Minneapolis. Our favorite art museum is the Minneapolis Institute of Arts which is free and has fabulous kid-friendly spaces. The MIA also holds a D'Amico restaurant with some of best local kid-friendly food around.
Minneapolis is lucky to have a large theater scene that markets directly to children. Attached to the Minneapolis Institute of Arts is the always amazing Children's Theatre Company which puts on shows that adults and children love, and where there isn't a bad seat in the house. You'll also find great children's theaters at Steppingstone in St. Paul, Stages in Hopkins, and Heart of the Beast in Minneapolis.
Best Places to Eat With Kids in Minneapolis
Love to eat local? You can't get more local than a farmer's market. Minneapolis and St. Paul are both known for their farmer's markets. Whether you're shopping for fresh ingredients for a meal, locally-grown produce for a snack or picnic, or to check out some of the best local artisans in action – look no further. Check out the St. Paul Farmer's Market, the Minneapolis Market and make time for the Mill City Market, too!
Best Things to Pack for a Trip to Minneapolis
It's always Mom's job to pack (am I right?!) so you'll want to make sure you come prepared. As mentioned, Minneapolis is a walking city which makes a pair of comfy—yet supportive—shoes a must. I liked these sporty-chic sneakers from New Balance (which Kate Middleton also owns!) for trekking from point A to point B. And because we were always on the move—from roaming museums to cheering at a minor league game—I used this leather backpack to tote around everything we needed for the day. Like most families, we also visited the Minneapolis Zoo, where we took advantage of the many picnic spots using this insulated cooler, which is lightweight yet spacious (i.e. enough room for a delicious meal for the whole fam!). Don't forget to wear a windbreaker, too—since there are so many lakes in the Twin Cities, I quickly learned it can get pretty breezy. Of course, you can always head inside for a little shopping. Whether you head to the Mall of America or one of the local bookstores, I found this oversized tote to come in handy for all of our purchases, along with this reusable coffee cup to keep me going all day.
Although we only recommend picks we really love, we may earn a commission on purchases made through links from our site.
MORE: All the Things You Need to See on Your Family Trip to Atlanta
Cool Things to Do in Charleston With Kids
Best Places to Visit With Family in Baltimore
This article was originally published on