100-Calorie Vodka Ice Pops Are Back At Costco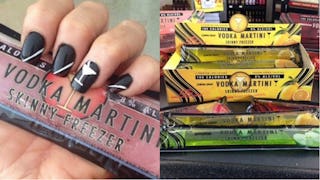 Images via Instagram/Slim Chillers
Grab the vodka ice pops at your local Costco
As quarantining to limit the spread of COVID-19 continues, we're looking for little things to make our days brighter. Thankfully, Costco always has a special summer treat just for adults – vodka ice pops. The best part is they're only 100 calories each, and they're officially back in Oregon, Texas, and Virginia stores for the season.
What's better than an ice pop on a hot day? An ice pop just for mom that has enough vodka in it to keep her chill while the kids destroy the house for the third time that day. If you're not a Costco member, check with your local BevMo store for Skinny Freezers. They're also sold at various liquor stores if you don't have a BevMo or Costco near you. The alcoholic dessert is "made with premium 8-times distilled, charcoal filtered Vodka," according to Slim Chillers, the brains behind the genius idea Skinny Freezers.
https://www.instagram.com/p/Ba5KkZcjC-m/?utm_source=ig_embed
They come in four flavors including Cosmopolitan, which is "bursting with an abundance of cranberry, orange, and a pinch of lime." The Lemon Drop is sure to be a favorite. "Imagine, if you will, the perfect mouthwatering Lemon Drop Vodka Martini, carefully balanced with just the right Lemon zest and flavor," the Skinny Freezers description reads. "But now at only a 100 calories and frozen!" Sold.
While I'm not a fan of Appletini drinks, the icy dessert version of it sounds worth a try. "Like biting into a Granny Smith Apple; our Appletini Skinny Freezer is both tart and sweet, with an amazing texture and a little kick," the creators of the newest boozy trend wrote. And last but surely not least, is the Watermelon Lemonade. You can't go wrong mixing these two classic summer staples. "With a perfect balance of sweet watermelon flavor and the zest of summer lemonade, our Watermelon/Lemonade Skinny Freezer is sure to quench even the most discerning palate," the site reads.
A few years ago, Skinny Freezers hit the shelves at a Costco in Henderson, Nevada but thankfully, they've now been added to locations across the country this year. And if you don't feel like leaving your house but know you'll need the adult-only summer snack you can always grab a box online. Think of all the places you can take your new favorite frozen drink: the beach, the pool, the couch, the park, whatever sports game your kid plays, your in-law's house – really the options are endless. Just make sure you have a designated driver and a special section of the freezer the kiddos can't access.
This article was originally published on