11 Affordable Must-Haves To Get Your Home Organized AF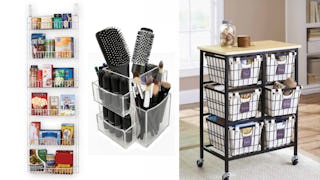 Walmart
There is nothing better than coming home to a clean, well-organized house. Or so we've heard, because that's not something we've personally experienced, but it's definitely our dream. Apparently, the first step to achieving this mythical mom-dream is being organized, so we've picked out some helpful items to get you there. And bonus, they're all totally affordable.
Here are our favorite affordable must-haves to get your home totally organized.
Note: Prices reflect Walmart.com pricing at time of publication and are subject to change.
If your kids tear through the pantry looking for snacks like ours do, you definitely need this organizer for your can goods ($11.97). Put chip bags and cracker boxes in these cute baskets ($5.00) and BOOM, you're basically halfway there! (Okay, that's a lie, but you're definitely one step closer.)
Short on space? Hang this door organizer ($19.43) on the inside of your pantry door (or anywhere else, really) and reclaim that unused space like the organizational boss you are.
There's always that one room that lacks space and storage. We're lookin' at you, kitchen. This real slim caddy ($14.99) will fix that.
This rolling cart with baskets ($60.56) is the perfect storage solution for any room, because it's chic and functional. Customize the labels to make it fit your needs.
Baskets are an organizational must-have. This set of 3 is an absolute steal at just $11.88, and they're available in multiple colors. Yes, please!
Skinny closets can feel impossible, but this closet organizer ($59.50) will give your closet the functionality of a Carrie Bradshaw closet. Just maybe on a slightly smaller scale.
Fill these slender storage containers ($35.99 for a 2-pack) and slide them under your bed. Keeps things neat, tidy, and out of sight.
If you're into KonMari, or you just have children who destroy their dresser drawers, these drawer organizers are ah-mazing! Grab this 5-piece set for $14.84.
Looking for a way to keep your kitchen drawers clutter free? We got you. Try these interlocking drawer organizers (set of 4, $18.95). And maybe ditch all the extra utensils you never use.
Whether you're trying to organize your life, or just trying to remember what your bathroom counter looks like, this rotating makeup organizer ($22.71) is where it's at.
Okay, that should be enough to get you started. Now go show your cluttered spaces who's boss!
We may earn fees from purchases made via links on this page and affiliated sites. All opinions are our own.
This article was originally published on