11 Fabulous Lipsticks You Need In Your Life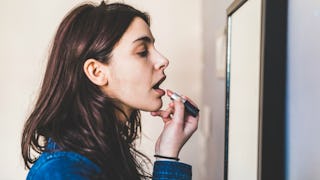 William Perugini / Getty
There is nothing that can light up a face like a little lip color. It's a well-known secret among moms that before going out in public, if you tie your hair back, throw on some sunglasses, and a swipe of lipstick, it totally looks like you have your shit all the way together.
At Scary Mommy, we don't ignore our lips. I mean, we might not shower for a couple days in a row or do laundry on the regular, but we love the way a nice gloss or lipstick can make us feel so, we've rounded up our staff favorites for you. They will leave you feeling pulled together even on those days when you forget to change your undies.
So, pucker up and paint those lips, just don't forget to buy two of your favorite: One for your purse, and one for your makeup bag — actually, make that three, you are totally going to lose one.
This lip color is glossy without being sticky, under $5, and leaves your lips feeling conditioned. Our favorite shade is Blooming Balm- it looks super sickeningly cotton-candy pink in the tube but it goes on sheer and just gives a hint of color. Very flattering.
A lip balm made with shea butter? Yes, please. It leaves your precious lips looking and feeling extra kissable and is only $8. We love all the colors, especially natural rose.
These tinted lip balms are made with mica, which leaves your lips with a touch of shimmer. They are all natural and made without chemicals, dyes, or fragrance. For $6, your lips will love you. All the shades are amaze, but our favorite is Giggle.
This is the Cadillac of lipsticks. We love it for its semi-matte, silky finish, not to mention the sleek case. For $28, it's worth the splurge. All the colors are yummy, but Orgasm is where it's at. You'll love it.
If you're craving the perfect red for your lips, you need MAC's Ruby Woo in your makeup bag. It's a cult favorite for a reason, and pretty much a makeup must-have. MAC never tests on animals, and for under $18, you will have that old Hollywood glamour vibe going on.
If you want a long lasting lip stain, this is it. I wear this almost everyday. It's under $4, doesn't run, and we suggest Dewy Berry. It's a sexy shade of pink that will look good on anyone.
This lipstick will make your feel like a new woman. For $22, there are a ton of fun shades to choose from, it leaves your lips soft, and goes on like butter. Our favorite? Bare Pop.
There's nothing sexier than a glossy shine with a hint of color. This is one of the best lip glosses on the market. For around $16, you get a fully pigmented, weightless swipe of color without harsh sulfates. You can use this as a layering gloss to go over your favorite lip color, too. We are obsessed with Antique Gold.
This lip shimmer is subtle and natural. For only $5, you are going to want to get a few of their yummy shades. My daughter steals mine all the time, so stock up.
We adore Maybelline Color Sensational Matte Lipstick . Molten Bronze is our favorite shade and looks great by itself, or layered with a clear gloss for more shine. It's priced at under $8, and lasts even when drinking and eating — you can literally swipe once and forget about it for the rest of the day. Score!
Whether you're looking for a lip balm to double as a lipstick, or want to go full glam, we've got you covered. The hard part now is choosing which one you're going to try.
Did we leave your favorite out? Share your must-have lip color in the comments, we'd love to check it out.
This article was originally published on