13 Instagram Accounts To Follow When You Need To Escape Your Life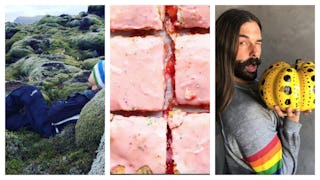 LEFT: @bucket.list.adventures/Instagram; CENTER: @tastingtable/Instagram; RIGHT: @jvn/Instagram
Let me paint a little picture we are all familiar with: You are stuck in your office and are desperate to escape. Or maybe you are sitting on a park bench and told your child they could have five more minutes and they found a playmate and you don't have the heart to tear them away.
Whatever the case, you are physically stuck but could really use a mental escape, and day dreaming isn't going to cut it — you either need it to appear you are doing actual work, or every time you try to drift off, you sink into your own thoughts. Anxiety takes over, so fuck that.
Well, we have the answer you've bene looking for. Behold: our favorite Instagram accounts that will give you a mini-escape from your own reality.
Just sit back, start following, and get the mini mental vacation you deserve.
Schwartzberg is an amazing artist who captures life, nature, and all its cycles in a way we rarely get to see. He puts me in a hypnotic state each time I visit his account. His videos will give you (and your kids) an appreciation for nature you didn't have before.
We love this account for its simplicity and how easy she makes decorating a home look. She has a classic style, restores older pieces, and she and her husband do almost all the work themselves while guiding you through the process. She actually makes me believe I can renovate my bathroom myself.
Holy shitballs, this is the place to go for messy, goopy, comfort food that you want to wrap your mouth around. This page makes me want to open up a restaurant with overstuffed sofas, fireplaces, and an open kitchen where everyone can watch the creations being made. From homemade pop-tarts to mac-and-cheese to soup bowls, if you need some baking inspiration, look no further.
https://www.instagram.com/p/Bn_dgXeBMm8/?taken-by=artfulparent
The Artful Parent is a place to browse even if you aren't crafty yourself. There are so many fun, doable crafts for your children to enjoy without using a ton of materials. Be warned: you will have just as much fun indulging in some of these projects as your kids. I've been know to put mine to bed and make some of these projects all by myself.
We love Lina. She's a working mother and brings so much real-ness to her pages with her postpartum pictures, outfits for the working mom, and stunning photos of her family.
If you need a good laugh, Kristin and Jen are here for you. This account will have you rolling on the ground forgetting about what a mess your life is. They aren't above showing food stuck in their teeth or cleavage shots with you.
Wanderlust much? This account will take you from Iceland to French Polynesia, and you can live vicariously through their family adventures until your next vacation. We love how their pictures include the whole family.
We all need a good ass-kicking every once in a while, and you can get some of that by these inspiring memes and short stories. This is a great place to lose yourself for twenty minutes, especially if you are feeling a little lost, unmotivated, or not sure where your life is going. Which is me every Tuesday, Friday night, and Monday morning.
It's accounts like this that make me believe I can do hard things. Even if your home is a far cry from these pictures, it's nice to rest your eyes and see that it actually is possible to have an organized closet or pantry even if it will only last 3 days in your home.
Designer and mother, Rach combines fashion with soccer practice and will make you want to bust out your heels to go to the grocery store. Not to mention we love her drool-worthy closet.
No matter how large or small your travel bucket list is, this account will inspire you to start checking things off. From tropical cruises to trips across America, these pictures will get you in planning mode ASAP.
https://www.instagram.com/p/Bm4IPGQgtfV/?taken-by=_flawlessbeaute
Whether you wear make up every day or not, it's so fun to play with. This account will make you want to break out of your comfort zone and try new trends and colors even if you do it alone on a Friday night after tucking the kiddos in bed.
Even if you don't watch Queer Eye (you totally should if you don't), you need to follow Jonathan — he's fucking fabulous and uses his platform for the greater good. Not to mention he's hilarious and his fashion sense is on point.
This is why we love social media — there's no better way to escape from real life for a bit and let the inspiration come to you when you are supposed to be doing thing like scrubbing the toilet, working or making a grocery list. Those things can wait and sometimes all we need is a little inspiration to get us through the day.
This article was originally published on