13 Questions I Have About 13 Iconic '80s Music Videos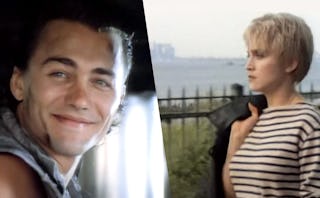 I spent a good part of my childhood and adolescence watching MTV while eating a can of Pringles and drinking Fresca. (Binge-watching used to be called "never getting up from the couch.") As a kid, I watched music videos passively—why one Pet Shop Boy had nothing at all to do or why Michael Jackson broke into dance routines in graveyards were not questions I pondered. But from 30 years on, there are a few things I noticed that I'd like to start a conversation about. Below, 13 questions I have about 13 iconic '80s music videos.
1. Madonna, 'Papa Don't Preach'
Who wouldn't get with that hot guy who knocked her up?
2. Bananarama, 'Venus'
Where can I get those jeans? I feel like I could rock that style again.
3. Culture Club, 'Karma Chameleon'
What is Boy George doing on a riverboat in 1870? What does a riverboat card shark have to do with the colors red, gold and green?
4. Pet Shop Boys, 'West End Girls'
Why doesn't the other Pet Shop Boy have something to do in this video? I like to pretend that he's thinking "is it my turn to sing yet?"
5. Cyndi Lauper, 'Girls Just Want to Have Fun'
Did anyone in the '80s dress as well as Cyndi Lauper? Check out that pink dress. I'd wear that now.
6. Richard Marx, 'Right Here Waiting'
Okay, this is bizarre. What is he saying exactly? Because he's NOT right here waiting for anyone. He's on an international tour, fighting off throngs of adoring fans. This seems to be a tribute to how awesome Richard Marx thinks Richard Marx is. And yet: This song is 10th grade for me.
7. A-ha, 'Take On Me'
Why does the waitress crumpling up the comic make the bad guys come back?
8. Survivor, 'Eye Of the Tiger'
Why are they so angry? They're on their way to band practice.
9. Men at Work, 'Down Under'
Are they wearing sunscreen?
10. Irene Cara, 'Flashdance…What a Feeling'
Is it too late for me to learn to weld?
11. Michael Jackson, 'Thriller'
I love this video, but still: Why is this so long? Can you believe that we used to not have fast-forward for those first five to eight minutes?
12. Rick Astley, 'Never Gonna Give You Up'
How many outfits does he wear in this video?
13. Starship, 'We Built This City'
Can you believe Grace Slick is 75?
So that's the first 13. But there are so, so many more, like "Sweet Child O' Mine" or "Another One Bites the Dust" or "Wake Me Up Before You Go-Go." Um…excuse me while I go get my Fresca and Pringles!
This article was originally published on