14 Important Thoughts I Had While Watching 'Baby Boom' in 2015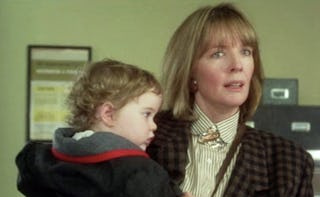 It was with no shortage of shame that I recently admitted to my coworkers that I'd never seen the 1987 masterpiece of feminist cinema, Baby Boom.
How on earth could I have missed Diane Keaton as a high-powered New York City management consultant whose inheritance on the death of a distant cousin is not a million dollars as she assumes it will be, but rather an adorable little girl, they wanted to know. I argued that perhaps I could be forgiven for missing Baby Boom as I was quite busy watching the films that actually mattered from that same year, namely Moonstruck, Dirty Dancing and Broadcast News, but I found no sympathy from my colleagues. They gave me the silent treatment until I conceded my cinematic education was sorely lacking and agreed to spend two hours watching the Nancy Meyers-penned flick, in spite of my near certainty that a movie about a woman trying to juggle a career and a baby in the late '80s was not going to hold up in 2015. (It would be four years before single Murphy Brown got pregnant and was accused by Dan Quayle of "ignoring the importance of fathers.")
Well, it turns out we were all right. Yes, Baby Boom is a gem, an amusing workplace-parenting-romantic comedy that I liked well enough and probably would have adored if I'd seen it when I was 13. And it's cringeworthy, too: So much of the movie's depiction of a working mother's tone-deaf treatment by her male co-workers seems sadly still accurate today. Mostly, I found myself laughing at the absurdity of how much things have changed, and how they have changed not at all.
1. The movie starts with scenes of women in power suits and gigantic hair rushing off to work and a voiceover: "Sociologists say the new working woman is the phenomenon of our time."
I laughed out loud at the idea of "the new working woman" being a "phenomenon," and then I cried because the new phenomenon of our time is now revenge porn and that makes me long for a simpler time.
2. Diane Keaton's character, J.C., is nicknamed "The Tiger Lady" at the office. She even proudly refers to herself that way. Why she puts up with a sexist nickname like that is baffling and seems akin to a woman referring to herself as "That Bitch." In other news, Diane Keaton seems to not have aged in the past 28 years.
3. James Spader was hot with hair, just in case The Blacklist obscured the memory.
4. Shoulder pads were not actually so bad. Sure, the silhouette is more linebacker than we might prefer today, but there's something kind of geometrically appealing about this look.
5. Her belted suits, however, were indisputably hot. Why aren't we wearing wide tight belts with our suits today? Michelle Obama told us it was okay to wear belts over cardigans. I'm here to say it's time to start belting your shoulder-padded suit. #trendspotting
6. The scene of J.C. taking a phone call in bed is priceless. Please notice how even her nightgown has the same button front and point collar of a dress shirt, and how she has the ultimate status symbol, a Rolodex, on her bedside table. This is right after her boyfriend tells her she can't leave the city because "you in VT without a speakerphone would not be a pretty sight." Ah, a speakerphone. The pinnacle of technology.
7. J.C. receives the baby in a quick handoff in the TWA arrivals lounge. I found myself wondering first how she got past security to meet the plane, then what happened to TWA, then what kind of will stipulated the baby would be passed off to a distant cousin in an airport. Note to self: update will.
8. She then drops the baby at the coat check in a fancy restaurant. Ha? It's supposed to be a nutty satire, but you just can't imagine this being played for laughs in a modern film.
9. On a guilty shopping trip to FAO Schwarz, the big gift J.C. buys for her new daughter is a Cricket doll. Cricket, the talking doll who famously said, "Are we having fun or what?"
10. The adoption agency where J.C. almost gives up the child looks like a school principal's office. J.C. hands off the kid like she's a set of plastic tumblers at a yard sale—here, take it, one man's trash is another man's treasure. The way this child gets passed around between adults in a spirited game of hot potato with essentially no red tape of paperwork is hilarious and also a little disturbing.
11. J.C.'s bosses take away her demanding account and decline to make her partner because she's a frazzled mom. "I'm not going to turn into Erma Bombeck!" she cries. "I told you you can't have it all," her boss informs her. This was perhaps the most absurd part of the movie, but also the point at which I wryly wondered to myself how many women are being similarly discriminated against, just less overtly, in 2015.
12. These are the friends with whom J.C. hangs on the playground.
Please note the voluminousness of these outfits and hairstyles. The woman on the right is wearing a flannel checked button down and matching pants cuffed at the ankle with slouchy pink socks. I think this might be a spread from the new American Apparel campaign.
13. Her love interest after she moves to Vermont and remakes her life is Sam Shepard. I don't want to objectify him too much, but I did Google "young Sam Shepard" after watching the movie and wondered how we got to the crusty old patriarch in Bloodline.
Sigh. Age comes for us all—actors, hit movies, even the twins who played Baby Elizabeth in Baby Boom, who were recently featured on the best show on TV. Look how normal and still adorable they are!
14. A bonus for the true fans. Baby Boom was indeed made into a one-season-long TV series in 1988 starring Kate Jackson, with Joy Behar and Susie Essman. Yes, colleagues, I missed the show too. But I hope you'll forgive me for my pop cultural blind spot now that I've finally seen the movie.
This article was originally published on