I Took A 19-Hour Drive Just To Have The Chance To Hug My Parents
by Kristin Shaw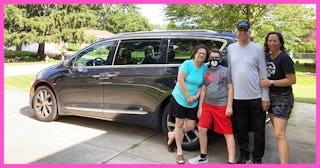 Courtesy of Kristin Shaw
There's a song from 1988 called "The Living Years" by Mike + The Mechanics that squeezes my heart every time I hear it. Written from the perspective of a son after his father passed away, he regrets the things he didn't say and the old arguments they didn't resolve. It's not a song I hear often any more, but the lyrics linger in my head long after the final few bars of music fade out. And then I feel an intense longing to hug my parents, who live several states away from me.
Every year, my son and I spend a month in Indiana with them, and my sister brings her family and we swim and visit Lake Michigan and have dinner at the table in the screened-in porch. It's the same porch and the same house my parents have had since I was three years old, and every time I walk in the door love and acceptance and understanding rush through me. The soundtrack of my childhood plays in my head every day we're there.
This summer was an unusual case – everything was uncertain and flying was out of the question for us, especially since my parents are in their 70s now. I posed the question: Do you still want us to come?
They unequivocally said yes. We've discussed safety protocols and they knew we had been very careful for months before that. No indoor restaurants, no flights, no parties. The only question left was whether I could drive a Chrysler Pacifica for 19 hours from Texas to Indiana with my son in two days; we were ready to try.
My grandfather was born in 1898, which sounds impossible even to my own ears. He was 45 when my dad was born and 72 when I was born. In his lifetime, the Spanish Flu, the Great Depression, both World Wars, the Civil Rights Movement, and the Cold War rolled by. I knew he had grown up on a farm, the son of immigrants from Friesland in the Netherlands who found their way to New Jersey to start a new life together.
I only got to see my grandparents once or twice a year, and I remember Grandpa's sweet laugh; the standard outfit of pants, a button-down shirt, and dress shoes every time I saw him; and the roll of Pep-O-Mint Life Savers he always had in his pocket. We played cards and didn't spend a lot of time asking him questions, because my sister and I were self-centered in the way that most kids are at that age. Mortality didn't enter our minds until he and my grandmother passed away by the time I was 16. When they were gone, there was so much I had wished I had asked them. So much time I wish I could have back. I didn't want that regret for my son.
So we folded down all of the seats and loaded up the minivan with everything we needed, including a portable potty. I didn't even want to take a chance by going into a gas station or truck stop… these were early quarantine days, yet. You've never seen so many stuffed animals, either. When we fly, we have to pack economically; in the van, it was as though a toy company set up shop in there. My 10-year-old kid entertained himself with a lot of games on his Nintendo classic plugged into the screens in front of him as well as his iPad, but I watched the clock and called for reading or toy or just-look-out-the-window-at-America breaks.
As I discovered a few years ago, the journey itself is such a key part of vacation. It's not about how fast you can get there but what you experience along the way. New things you see. Learning geography and how all of the states fit together. We talked about gaming, politics, movies, music, and funny road signs. We even stopped at Dinosaur World off an exit in Kentucky on the way home.
When the signs for Elkhart came into view, we started to cheer. Not just because the driving part was nearly complete, but because we were almost in the arms of family.
Masked and staying close to home, we still got to experience some of our favorite places in the area. There was no 4-H fair, but we picked blueberries. We couldn't eat inside Redamak's, our favorite Lake Michigan hamburger place, so my sister and I set up a picnic in the back of the van for all of us. We adapted and had a blast.
We are fortunate to have the means and the time to do this in the summer. We are fortunate that we stayed healthy. All of the planning and caution was worth it. There's nothing like a hug from Mom and Dad.
This article was originally published on