We Asked Our Moms And Nanas For Their Beauty Secrets, And They Didn't Disappoint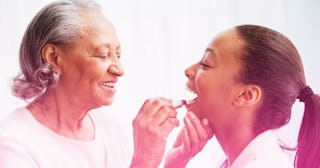 Scary Mommy and Jose Luis Pelaez Inc/Getty
When I was growing up, my Italian mother always had two bottles of extra virgin olive oil in the house: A big one for the kitchen, and a small one for the bathroom. I don't mean she used an olive oil based beauty product. I mean there was a bottle of good old, cold pressed EVOO next to her sink at all times. As long as I've been alive, she hasn't used anything else to moisturize her face or body. It's her beauty secret, and she swears by it for every skin ailment that exists. Eczema? Put a little olive oil on it. Psoriasis? EVOO. Acne? Add some…oil?
I can't say that I'll be giving up my psoriasis meds for olive oil, and I certainly never put it on my teenage acne, but I have used a little extra virgin as moisturizer in a pinch. I still prefer it in my salad dressing instead of on my face, but my mom just turned 60, and there's not a crease on her, so she's probably onto something.
I think we all find a product or method that works for us and we just never stray. For me, it's Venus razors. They came out during my senior year of high school, and I've had a Venus and a can of Skintimate in my shower ever since.
Our moms and grandmas have beauty secrets that predate my brightly colored razors and fruit-scented shaving cream. Some of them have been using the same products and following the same steps to get ready since before I was a twinkle in my daddy's eye.
I asked a bunch of beautiful women a generation or two older than me to reveal their tried-and-true beauty secrets. I wanted to know how they keep themselves feeling and looking beautiful. Here's what our Mamas and Nanas do to stay gorgeous.
They had some tried and true makeup tips to share.
"I've worn white eyeshadow below my eyebrows since 1977. I've toned it down since then choosing a less frosty shade, but the concept remains. I think my face looks incomplete until I've highlighted my brow bone." –Marie S.
"My beauty secret is simple. Red lipstick only. Berry for day, fire engine for night. There's no reason to own nude lipstick." –Jeanne S.
"Maybelline Great Lash Mascara. The original pink and green one. I've tried others, but it's still my favorite."—Holly O.
"I don't leave home without lipstick. My mother never left home without her favorite Revlon pink, and she taught me that a little effort goes a long way in feeling good about yourself." –Gloria J.
"Vaseline to remove my eye makeup. Nothing works better."—Shelley T.
A couple of them swear by a signature scent:
"Red Door perfume by Elizabeth Arden since it came out in 1989.'—Holly W.
"Ivory soap since birth because my mother never bought anything else. Also, Jean Nate perfume since high school. It's hard to find now, but I'm 82, and no matter what else I've tried, I always go back to it." –Genie W.
Don't forget those old-school hair styling tips:
"I still use Velcro hair rollers. I always will. They make a better set that lasts longer than a curling iron." –Vickie W.
"Hot rollers every day. When I get out of the shower at night, I dry my hair, pile it up on top of my head, and wear a ponytail almost at my forehead. It gives it body for my rollers."—Janice C.
"The purple can of Aquanet. It's $2, and it keeps my hair exactly where I want it since 1985."—Caroline J.
"I have never paid anyone to color my hair. I went from naturally blonde to white in my twenties, and nobody knows because I've put a bottle of Clairol on it once a month ever since." –Anne H.
Skincare seems to be the most important beauty secret for most of our moms.
"Jafra's Royal Jelly is the secret to not looking my age."—Bea U.
"Say what you want, but I'll never give up my cold cream. I use Ponds to take my makeup off every night. It's all I do to take care of my skin, and I think I look great. My husband uses Noxzema to shave his face. I even rub it on sunburns." –Kathy E.
"Once a week clay masks. I've been doing them every Sunday night since college, and I have barely any wrinkles or blemishes at seventy years old. –Rhona W.
"Oil of Olay. My mother bought me my first bottle when I started wearing makeup. When I got married, my husband went to a beauty counter and bought a whole big set of expensive skincare products for my first Christmas gift, and that's the only time I ever deviated from Olay. Mother knows best." –Janet T.
"I've been using Jergens Cherry Almond original scent lotion on my body after my shower since I was 16 — 48 years ago." –Julie H
And finally, some beauty secrets are just little pearls of wisdom.
"My mother always used cornstarch baby powder on a big puff—no talc! She put it under her arms and breasts, on her 'downstairs' and in the small of her back– anywhere that might otherwise perspire. She always smelled nice, and never broke a sweat. You better believe I followed in her footsteps. I might look like a powdered donut after my bath, but I'm always cool and comfortable." –Jeannie B.
"Get a big sun hat. That's my beauty secret. All of my friends who spent their summers tanning have suspicious moles and leathery skin. I spent my time under an umbrella wearing my big sun hat, and I look a generation younger than my girlfriends." –Mary Louise G.
"My only secrets are confidence and good hygiene. As long as you are clean and tidy, people will believe you're beautiful if you say you are with a smile on your face." –Glenna I.
I'm happy to live in a time when we have a gazillion choices when we pick out beauty products. I have a counter top full of skincare products containing hyaluronic acid, CBD oil, and even mushrooms. My shower is packed with bottles of potions designed to revolutionize my hair and skin. My makeup bag looks different every time I shop. I really love trying new stuff.
But there's something to be said for finding what you love and using it until it's a classic. If it's good enough for Nana, it's probably good enough for me.
This article was originally published on