Report Shows 2,000 Immigrant Children Have Been Separated From Parents In 6 Weeks
by Thea Glassman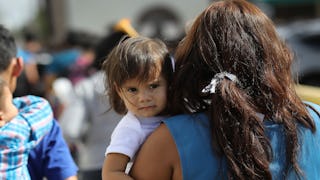 Image via John Moore/Getty Images
The Trump administration has separated almost 2,000 immigrant kids from their parents
Ever since Donald Trump announced his "zero tolerance" policy for immigrants crossing the U.S. border, families have been ripped apart left and right. Between April 19 and May 31, 1,955 children were taken from their parents, according to a Department of Homeland Security official report. That's an average of 48 kids separated from their parents per day.
The numbers are awful. The real-life stories behind the numbers are even worse. A border patrol agent literally snatched a baby away from her mother while she was breastfeeding. Marco Antonio Muñoz, an immigrant from Honduras, died by suicide in his detention cell after he was separated from his wife and 3-year-old son.
Recently, a journalist toured a children immigration detention center and revealed that the kids are stuck inside for 22 hours a day, given limited access to the outside world, and are essentially incarcerated.
This awfulness is happening because of Attorney General Jeff Sessions' "zero tolerance" immigration policy. Under this new rule, every adult crossing the border illegally will be prosecuted as a criminal. When parents are put in federal jail, children are sent to so-called "shelters" which are, by all intensive purposes, also a jail.
So, how is Sessions justifying his decision? Well, he's quoting the bible even though religion has nothing to do with what's happening right now.
"Concerns raised by our church friends about separating families [are] not fair or logical," he told law enforcement officials last week. "I would cite you to the Apostle Paul and his clear and wise command in Romans 13 to obey the laws of the government because God has ordained them for the purpose of order."
Press Secretary Sarah Sanders doubled down on that philosophy, telling reporters that it is indeed "biblical" to enforce the law.
Funny you should mention that. Many churches have quickly slammed Sessions' reasoning — including the Attorney General's own church.
"Tearing children away from parents who have made a dangerous journey to provide a safe and sufficient life for them is unnecessarily cruel and detrimental to the well-being of parents and children," Bishop Kenneth Carter, president of the Council of Bishops of the United Methodist Church, said in a statement.
If you'd like to help the families who have been separated at the border, you can call your representatives, attend a protest, volunteer your time, or donate to non-profits helping on the ground.
This article was originally published on