2,000 Veterans Arrive At Standing Rock To Form 'Human Shield' Around Protesters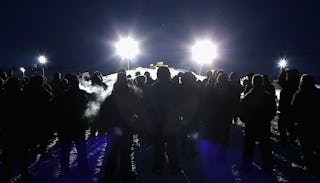 Image iva Scott Olson/Getty Images
Thousands of U.S. veterans are showing solidarity with demonstrators
They've started to arrive and their presence is powerful. U.S. veterans are descending on Standing Rock, the site in North Dakota where Native Americans and their supporters have been protesting the construction of an oil pipeline called the Dakota Access Pipeline. It's a project that arguably threatens their land and water, polluting both, and harming sacred tribal land and burial grounds.
The group of veterans is determined to defend the demonstrators "from assault and intimidation at the hands of the militarized police force and DAPL security," according to the Veterans For Standing Rock GoFundMe page. The veterans' action was organized by veteran Michael Wood, a former police officer, and Wesley Clark, a veteran and screenwriter who have raised $860,070 in their crowdfunding campaign as of Friday afternoon. The group has said it will be a peaceful protest and no violence or hate will be tolerated.
Ruth Hopkins, a Dakota/Lakota Sioux writer for Indian Country Today tweeted this photo yesterday of veterans arriving.
Many of these veterans are leaving their homes, their families, and their jobs to do this. They're leaving their lives to stand up and speak out against injustice.
According to this tweet, Chris Turley walked over 200 miles to Standing Rock to show solidarity with water protectors.
Turley said in the video that he's a father of three and that he quit his job and left his family back home to do this.
He called the protesters "our people, my people, your people."
"It doesn't matter how long you served, or how long you [were] in for, each and every one of us veterans we rose a right hand and we swore an oath on that flag to uphold it and the constitution of the United States of America," Turley said. "We swore to protect it against all enemies, foreign and domestic, and right now the ones we see are domestic — are on the other side of that barrier right now."
The violence that some of these protesters have endured is no secret, thanks in part to social media. Law enforcement has used tear gas, rubber bullets, and water cannons at the site. According to the New York Times some protesters have filed a class action law suit alleging excessive use of force.
Beyond just physically standing up for the protesters, the group of veterans also aims to get necessary supplies like food and water to those demonstrators who've been out there for months and who are now enduring harsh winter weather. The veterans' plans are coinciding nicely with the North Dakota's governor's mandatory evacuation order issued earlier this week. In the executive order Governor Jack Dalrymple cites "severe winter weather conditions" as the reason for issuing. The temperature there today is 19 degrees and will reportedly be in the single digits over the weekend.
The order has other ramifications besides just getting those that are at the site to leave. The order also prohibits people with supplies from going in and out of the area. Those that do, are entering and re-entering "at their own risk" and could face penalties. Whether or not that means actual road blocks is anyone's guess, but it still makes for an intimidating and challenging situation for demonstrators and their supporters.
The 1,172-mile oil pipeline with the 3.8 billion dollar price tag is supposed transport oil from North Dakota, go under Lake Oahe in the Standing Rock Sioux Reservation, through South Dakota, Iowa, and into Illinois. It's being constructed by Energy Transfers LP, of Texas, and is mostly done except for the stretch that's planned under the lake.
The veterans plan on arriving through the weekend and according to the Veterans For Standing Rock Facebook page, they plan to organize future missions.
"We're doing this to support our country so lets do it with honor, working together. We can stop this savage injustice being committed right here at home. If not us, who? If not now, when?"
This article was originally published on