The 2015 Goop Holiday Gift Guide: You'll Laugh, You'll Cry, You'll Feel Poor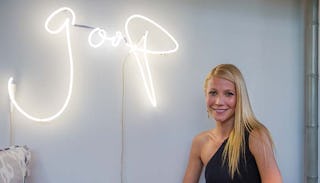 DALLAS, TX - NOVEMBER 20: Gwyneth Paltrow attends the goop pop Dallas Launch Party in Highland Park Village on November 20, 2014 in Dallas, Texas. (Photo by Layne Murdoch Jr./Getty Images for goop)
"Whether you want to spend $8 or $8,000, we've rounded up some of the most stunning and appealing gift options around—each and every item (a leather travel journal, monogrammed pajamas, an Hermes iWatch, a trip to the moon…) is something we'd love to give or receive."
Yes! It's that time of year again: the 2015 GOOP Holiday Gift Guide is here! Every year, everyone's favorite totally-out-of-touch-with-what-most-humans-can-afford style guru Gwyneth Paltrow compiles a list of holiday must-haves on her lifestyle site GOOP.
That's right, every year Gwyneth amasses a list of ridiculous gifts that no one can afford, and the internet makes fun of her out-of-touch ass. In an attempt to keep ahead of the curve and best her critics, she's beaten us to the punch this year by labeling a section of the gift guide "Ridiculous (and Awesome) Gifts." It is truly the most ridiculous, vulgar display of wealth yet — so congratulations, Gwyneth. Just when we thought you couldn't get any more WTF, you did. Here are some highlights:
Toothpaste Squeezer, $244
The perfect gift for that person on your list who has everything. The person who has everything doesn't want to squeeze their own toothpaste out of the tube — that's for suckers and idiots. The person who has everything needs a chrome-plated toothpaste squeezing contraption that says, "I have enough room on my bathroom sink for this shit."
18k Gold Dumbbells, $125,000
These are made to order. No idea how heavy they are, the product description does not specify. No words.
Hermes Mah-Jong Set, $46,000
There's a waiting list for this. No, really – there is. Those who have grown weary of waiting can just opt to set a pile of money on fire.
World View Exploration At The Edge Of Space, $90,000
"In 2017, you and five companions will experience 360° views of Earth as a high-altitude balloon lifts your luxury pressurized capsule 100,000 feet above our planet." Now she's just fucking with us. What even is this? Anyone?
Do-It-Yourself Vaginal Steamer, $55
This mid-century-modern-magic-hat-looking-thing is a vaginal steamer. Who knew there were other options besides DIY in this department? "Respected by women and holistic healers around the globe, yoni steaming is the ancient practice of allowing the warmth of herbal steam to softly permeate the exterior of the vagina." NO.
Okay, so those are admittedly ridiculous, but labeled as such, so maybe some of the other sections are more realistic? Let's look at "Gifts For The Doer," shall we?
Live the Process Corset Unitard, $260
"It's officially for working out, but just as great for lounging on the couch." Yup. The words "corset" and "lounging" are a match made in heaven.
How about, "For the Dudes"?
Post-Poo Drops, $29
"An essential." Really? An "essential?" This is the worst gift, ever. "After vigorous activity has occurred in the bathroom, Post-Poo Drop's crisp citrus peel notes– fortified with rich floral elements – effectively neutralise disagreeable smells." Happy Holidays, honey! You're gross.
I'll leave you all with my personal favorite:
Toilet paper, $956
This is fancy wrapped toilet paper. Enough said. "The gold-standard of toilet paper for the friend who truly has it all."
You've really outdone yourself this time, Gwyneth.
This article was originally published on