The Olympics Are Being Postponed Due To Coronavirus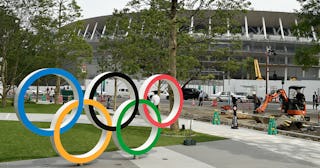 Matt Roberts/Getty
Following an uptick in cancellation rumors, an Olympic source confirms the 2020 Tokyo Games have been postponed
If you've been wondering how the coronavirus crisis might affect the upcoming 2020 Tokyo Games, a Monday afternoon update seems to make it clear: the summer Olympics will be moved. This breaking news comes by way of veteran International Olympic Committee member Dick Pound, who confirmed to USA Today that the Games will likely be moved to 2021.
"On the basis of the information the IOC has, postponement has been decided," Pound told USA Today Sports. "The parameters going forward have not been determined, but the Games are not going to start on July 24, that much I know." While the announcement has not officially come down from the IOC yet, Pound — who has been a defining influence on the organization for decades — noted that details about moving the 2020 Games are being worked out now. "It will come in stages. We will postpone this and begin to deal with all the ramifications of moving this, which are immense," he said.
This comes on the heels of Sunday's agreement between the Japanese leaders and the IOC to consider a postponement. "What we are going to do before anything else is to start by simulating about whether we postpone one month, three months, five months, one year," explained Yoshiro Mori, president of the Tokyo 2020 Organizing Committee. "We need to make a simulation about the various scenarios."
And that's no understatement. In postponing the Games, organizers will have to try to determine when they will be able to re-secure Olympic venues for all 33 sports, as well as for the Paralympics — along with the unenviable task of crunching costs incurred by the delay. "We have to go through each of them one by one," Mori said. Considering just these things alone would take an enormous time."
For now, Japan reportedly hopes to keep the Games on the calendar for 2020. However, judging by Pound's comments, that likelihood is growing slimmer by the day. Still, postponement seems to be the safest and most reasonable response to the coronavirus pandemic. In addition to the health and safety of athletes, the welfare of the millions of people globally who travel to watch the Games must be weighed.
Over the weekend, nations including Canada and Australia expressed that its athletes would not participate if the Games were to go on as scheduled in 2020. And per the Washington Post, IOC president Thomas Bach has addressed those concerns — on Sunday, he wrote to athletes to break the news of a potential postponement.
Information about COVID-19 is rapidly changing, and Scary Mommy is committed to providing the most recent data in our coverage. With news being updated so frequently, some of the information in this story may have changed after publication. For this reason, we are encouraging readers to use online resources from local public health departments, the Centers for Disease Control, and the World Health Organization to remain as informed as possible.
This article was originally published on