21 Invoices I'm Sending to Other Families
by Kaly Sullivan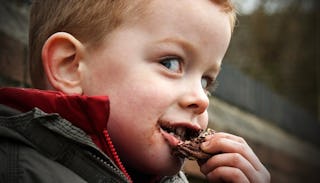 Remember that family who sent a bill to the kid who was a no-show to their birthday party? Well I, for one, am a little relieved that the whole thing has been brought up, because this entertaining other kids stuff is expensive.
Now that it seems possible to recoup some funds, I've made a list of expenses I'll be invoicing other families for, starting with these…
1. 87 peanut butter and jelly sandwiches I've made your kid that he takes one bite of and pushes away.
2. 800 kilowatt hours of electricity used to power the Wii U.
3. The three "must-have" Wii U games that my children learned about from your children.
4. Carpool expenses including mileage, gas and vehicle depreciation. (This Siena isn't getting any younger!)
5. My billable hours for the playdate you decided to "stay for a while" at.
6. Plumber (at holiday rate, Happy Labor Day!) for backed up toilet.
7. Six rolls of toilet paper that your child tried to stuff down said toilet.
8. A variety of art supplies that were not actually used to create anything but were somehow destroyed beyond repair.
9. 18 rolls of paper towels used in trying to teach your kid how to use a regular glass.
10. Goldfish, goldfish, goldfish.
11. The case of ZBars that mysteriously disappeared.
12. The living room rug that according to your kid "wasn't that nice anyway".
13. The wine I had to drink to recover from your visit.
14. 367 Magic Erasers.
15. New balls (all have been sent over the fence or mysteriously lost).
16. One gallon of ice cream that had "too much chocolate" and ended up in a melted puddle on our kitchen table.
17. Two cups of hot chocolate that also had "too much chocolate" and were left to cool on the coffee table.
18. One bag of microwave popcorn that I had been hiding for my Bravo binge that your kid managed to find. And burn.
19. 300 gallons of water from July 2014 when the hose was left on for five hours.
20. Six boxes of Band aids, three tubes of Neosporin (I told your kid at least four times not to eat it.)
21. Three days at a all-inclusive resort in Jamaica.
We take credit, but of course cash is preferred. Because of the PTA wrapping paper fiasco of 2012 we've determined we can not take personal checks. Please remit your payment before you send your kid/s to my house again.
Related post: 10 Ways Having Children Saves You Money
This article was originally published on