21 Tweets That Prove Dogs Are Cooler Than Most People
by Joanna McClanahan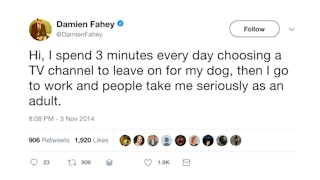 Twitter / @DamienFahey
The first thing I do at any party is look for the dog. They make me happy and comfortable and I'm always looking for an excuse not to have to talk to actual humans.
The fact is there's nothing like the pure, unconditional love of dogs. They're always excited to see us and they go out of their way to cheer us up when we feel down. If it were up to them, they'd follow us everywhere.
And luckily the funny people of Twitter are just as obsessed with dogs as we are. Because there are two kinds of people: Dog people and people who are wrong.
We would do anything for our dogs:
Seriously anything:
Sometimes we even treat them as if they were our own kids:
We occasionally put on the TV for them so they won't get bored:
We take all their needs very seriously:
And yes, sometimes we dress them up:
…and take photoshoots:
We can even get a little weird and competitive about it:
Some of us love them a little too much:
But our dogs always know they're adored:
OK, they are straight-up spoiled:
We genuinely enjoy hanging out with them:
And we'd take them everywhere if we could:
Dogs can complicate things when it comes to dating:
As well as long-term romantic relationships:
We even like other people's dogs:
And occasionally we'll even make contact with strangers for the sake of meeting a new dog:
And we legit worry about dogs without their humans:
Because at the end of the day, dogs want our love as much as we want to give it:
Let's face it, dogs are more enjoyable to hang out with than people. They're so loving and sweet and they don't care that your life is a mess.
Unlike asshole cats, that sit around silently judging everyone.