This Mom's Post Reminds Us How Truly Amazing Preschool Teachers Are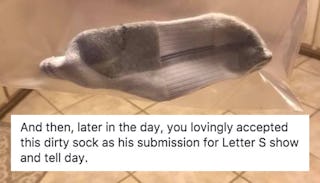 Image via Facebook/The 21st Century SAHM
This mom knows preschool teachers deserve our thanks for all they do
Being a teacher can sometimes be a thankless job. A thankless but necessary, important, and freaking amazing job that all us non-teachers look at and are often mesmerized by. It is a damn miracle how teachers make it through a day and actually look forward to coming back the next for more. One mom captured the true essence of our appreciation for preschool teachers in particular in a hilarious, heartfelt way.
Karen Johnson, blogger and mother of three, posted a note of thanks to Facebook. A very specific note of thanks which perfectly summarized parents' complete and total appreciation for teachers.
"This is a shout-out to all preschool teachers. I truly cannot imagine the things you must see," Johnson wrote. She said it was a "hot mess morning," so she told her son to get in the car so they were't late. She quickly realized he hadn't eaten breakfast yet, so she "threw a cheese stick at him in the backseat and told him to make sure he had it all eaten by the time we got to school."
Johnson, a stay-at-home mom who just gets it, said it wasn't until her son was out of the car and almost in the building that she noticed he was still holding said cheese stick, which was likely lukewarm and in the beginning stages of melting into a gooey oblivion.
"And then, later in the day, you lovingly accepted this dirty sock as his submission for Letter S show and tell day," she continues in her note of thanks to her son's preschool teacher. "Please know that I try. I tried to get him to take his sister's stuffed animal sloth for show and tell. I suggested a Skylander. And a soccer ball. But the dirty sock won because there are only so many battles this mama can fight."
Johnson told Scary Mommy he needed to find something that started with S and so she was reminding him of the S sound. "SSSSS like snake and soccer… and sock. And he said SOCK!" The rest, they say, is history.
"Thank you for taking him, just as he is. For taking all of us. For loving him. For teaching him. For letting him throw his uneaten breakfast away and for saying, 'Yes, sock DOES start with S! Good job!'" she continues.
Johnson said she was a teacher for years before having kids, so she understands how hard teachers work. "I am forever frustrated at the lack of appreciation they often get, how they have to face endless budget cuts and standardized testing and lack of administrative support, and still come to work every day with a glowing smile and do their best for our kids, even if they don't have the resources they need," she explained.
"I don't know how or why you do it, but love you," she writes.
This article was originally published on