This 22-Year-Old College Student Is Already A NASA Engineer
by Sarah Hosseini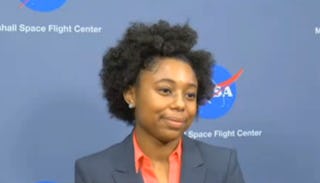 Image via WBRC
She has a 5.0 GPA
Tiera Guinn's young career is blasting off like a rocket and making history. The 22-year-old is working for NASA and hasn't even graduated from MIT yet. Ha- and to think we all have 24 hours in a day. She clearly puts hers to good use.
Guinn is a Rocket Structural Design and Analysis Engineer for the Space Launch System that Boeing is building for NASA. Her role is to design and analyze parts of a rocket that she said will be one of the biggest and most powerful in history, according to WBRC. We did a little digging on NASA's website and found out that the goal of the rocket she's working on is to blast humans to Mars.
That's right, she's working to get people on the planet Mars by 2020. No big deal.
WBRC FOX6 News – Birmingham, AL
Her trajectory couldn't be more impressive and reads like something like out of a modern-day version of "Hidden Figures". Turns out, she's been working on her aerospace engineer dream for awhile and has had a penchant for science and math since she was a young child.
Enter her mother's educational guidance and nurturing. Guinn told WBRC that her mom noticed her skills early on and made sure she used them.
"When [my mom and I] would go to the grocery store, she would get me to clip coupons [and] put it in my coupon organizer," Guinn explains. "By the time we got to the register, I'd have to calculate the exact total, including tax. And I did that since I was six years old."
Guinn is obviously brilliant, but it's also her lifetime love of aerodynamics that's played a big role in who she is today. "One day I saw a plane fly by and I just had this realization, 'Huh, I can design planes. I'm going to be an aerospace engineer,'" Guinn says. Additionally, she was able to choose middle school classes that aided in her dreams and interests, later commuting an hour to go to the high school that offered the best classes for her future.
While working on the rocket aimed for Mars (sorry, had to type that again), Guinn's also working toward graduating from MIT, where she maintains a 5.0 GPA. Which, seriously, we didn't even know anything beyond a 4.0 was possible. Did she do extra credit? Bonus points on tests? Either way, we're extremely impressed.
"You have to look forward to your dream and you can't let anybody get in the way of it," she says. "No matter how tough it may be, no matter how many tears you might cry, you have to keep pushing. And you have to understand that nothing comes easy. Keeping your eyes on the prize, you can succeed."
When asked by the news station what it's like to succeed, she replies, "I'm not at my success point yet, I have a long way to go."
And we can't wait to see that happen.
This article was originally published on