3 People Dead In Shooting Outside Oklahoma Walmart
by Valerie Williams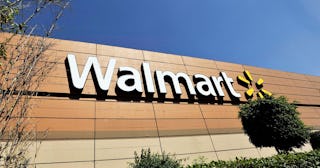 Daniel Aguilar/Getty
A shooting outside an Oklahoma Walmart leaves three dead, including the shooter
In an all too familiar American scene, another three people are now dead from gun violence. This time, the carnage took place outside of an Oklahoma Walmart. The shooting happens mere months after two other shootings at Walmart stores, one in El Paso that left 20 people dead and another 26 injured, and another at a Mississippi Walmart that ended with two dead.
Today's shooting happened in the parking lot outside of the Duncan supercenter, and according to local police, the three lives lost include that of the shooter.
A man and woman were found dead inside of a car and a man was also killed outside the vehicle. Duncan Police Chief Danny Ford confirms to KSWO that the the shooter is among the dead. KSWO reports that police were dispatched just before 10am.
In the wake of the incident, all Duncan schools were placed on lockdown but have since reopened after police confirmed it was safe to do so. Police have also informed citizens that the shooter's weapon was a handgun found on the scene.
Duncan's city manager, Kimberly Meek, has already taken to social media to assure locals that police are involved and there's no additional threat. "Law enforcement officers have secured the scene, and we do not believe there is an additional threat to the community. Our prayers are with the victims, their families and with our law enforcement community as they investigate," she says.
It's also been reported that the entire incident occurred in the parking lot, not inside of the Walmart store.
According to the non-profit Gun Violence Archive, the number of mass shootings in 2019 has far outpaced the number of days so far in this year. Today is day 322 of 2019. The number of mass shootings this year as of today is 371. A mass shooting as defined by the Gun Violence Archive is an incident in which at least four people are shot, not including the shooter.
Today's deadly gun violence incident comes not even a week after the Saugus High School shooting that ended in the deaths of two students and the shooter along with three others injured.