Your 35 Week Old Baby's Development And Milestones
by Scary Mommy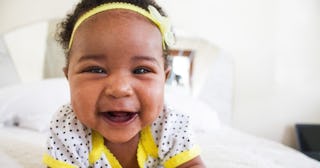 Shanice McKenzie/Pexels
You officially have a 35 week old baby!
You Might Want to Start Thinking About Buying a Power Washer
Your 35 week old baby has been expressing his feelings pretty loud and clear for a few weeks now, but now that he's inching toward being a year old he's added even more to his long list of likes and complaints, including his feeding preferences.
Even if you plan to breastfeed for as long as possible, you might find that baby is just not into it anymore. If this is the case, don't fret. Have a conversation with his pediatrician about how to best ensure he gets the proper nutrients even though his preferences have changed.
Your 35 Week Old Baby's Development & Growth Milestones
You might also notice that he suddenly dislikes foods he once coveted, or he develops a newfound love for foods he once abhorred, or that he's suddenly very interested in feeding himself. This is actually a good thing! Not only do you no longer have to make the same mashed or crumb-sized finger foods over and over and over and over again, but you can also let him take responsibility for some of his own care and upkeep. (It's about damn time!) Hand him a new veggie and a spoon and let him have at it! Just be sure you're prepared for the cleanup afterward. Because, seriously? You'll likely need a power washer by the time he's done.
Read More:
Your 36 Week Old Baby's Development And Milestones
Your 37 Week Old Baby's Development And Milestones
When Your Baby Decides She's Done Breastfeeding
The Struggle Of The Introverted Mother
This article was originally published on