I'm 39 Years Old, And I Can't Stop Posting My Breasts On Social Media
by Rachel Garlinghouse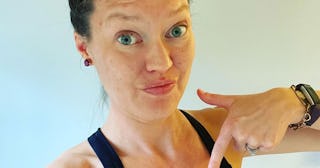 Rachel Garlinghouse/Instagram
I'm 39 years old, an age I felt was ancient when I was a child. I remember learning my mom was turning 40, and I thought she was practically in the elderly category. Now I'm that age, a wife, mom of four, and writer. Despite all of my life responsibilities and the stage I'm in, I will not stop posting my boobs on the internet.
I was only 35 years old when I found my third breast lump during my monthly self exam. I immediately called my gynecologist and made an appointment. She sent me for an ultrasound and my first mammogram. Because I have extremely dense breast tissue, a mammogram is a challenge. I was told that finding a lump in my breast via mammography was like looking for a snowflake in a snowstorm. The ultrasound located the lump, which appeared non-suspicious. I was told to have a repeat ultrasound in six months.
This didn't sit well with me. I was initially relieved, but in the coming days, I had a growing, nagging feeling that I couldn't shake. I decided to find a breast surgeon and get a second opinion. She did her own ultrasound and agreed that a biopsy was a good idea. I had the fine core needle biopsy, and then headed on vacation with my family. When we returned, I headed to the surgeon's office to get my results. I was blown away when she told me I had DCIS, or stage 0 breast cancer.
My first thought was, why me? Why, of all the women, did cancer choose me? I was a busy mom of four, including an infant. I ate healthy and exercised daily. I had no family history of breast cancer, my genetic tests for the BRCA1 and BRCA2 genes were negative, and I didn't have any of the typical risk factors. I later learned that breast cancer is, unfortunately, a fairly common diagnosis. In fact, one in every eight women will be diagnosed with breast cancer in their lifetime. About 11% of women diagnosed will be like me, under age forty-five.
My second thought was, I'm going to die. Since I have generalized anxiety disorder, my cancer diagnosis only amplified my worries. Even though I researched DCIS and knew that it was easily treatable, I just couldn't wrap my mind around the C-word. In fact, I didn't say "cancer" for weeks and cringed every time another doctor or nurse said the word. I was given the option between a bilateral mastectomy or a lumpectomy and radiation. Despite the standard choice to have a lumpectomy and radiation, I chose mastectomy after a lot of contemplation and prayer.
I didn't tell many people, and certainly not my readers and social media followers, that I was having a mastectomy. I was terrified that I would die during surgery, that they wouldn't get all of the cancer, or that someone would tell me I was making the wrong choice. I needed to be as clear-headed and confident as I could muster, pouring all of my energy into recovery and not managing other people's opinions. It's a good thing I chose the mastectomy, because in my pathology report, I read that I had previously undetected invasive breast cancer.
Shortly after my surgery, I posted that I had a mastectomy. From that point forward, I gained a sense of obligation to remind women to do their self breast exams, every month, and to make sure they got their mammograms. I did this, in part, by the power of pictures. The more I posted my chest, the more attention the photos got, and the more women received the reminder messages to check themselves.
Unfortunately, in 2020, we saw a rise in censorship of women's bodies. Many women, including breast cancer previvors, fighters, and survivors, were posting pictures of their chests on social media, especially in October, Breast Cancer Awareness Month. Photos of flat-chested women, with scars across their skin, flooded my feeds — temporarily. Almost immediately, they were censored, their posts removed. They received warnings to stop posting naked photos of themselves, which violated guidelines. Just like women in the breastfeeding community, the breast cancer community clapped back, reminding the social media entities that our photos are not sexual. The photos were meant to bring awareness, and in the case of breast cancer, promote early detection and saving lives.
Despite the risk of being reported for posting a chest-pic that a Karen (or a fragile white man) deems inappropriate, myself and many others are committed to keep posting our boobs (or lack thereof) online. Our bare chests, our one-breasted chests, our scars — these are all begging for attention that will hopefully, in turn, encourage women to do their monthly self-exams and report any concerns to their doctor.
Some of our posts are funny, some are shocking, and some are serious. By any means necessary will we make sure that other women know they matter and have a responsibility to take care of their bodies. After all, we are our own best advocates and know our bodies best. A self-breast exam only takes a few minutes a month, but that simple act can make a huge difference.
Breast cancer doesn't care about your age, race, religion, or how busy you are. It will show up when it pleases. It's a jerk, a liar, and a manipulator. Our best defense is to check ourselves and get mammograms when the time is right. We need to know our family health histories, when possible, and get tested for the breast cancer genes, if necessary.
It's easy to forget to do exams and to schedule our annual appointments. I get it. I'm just as busy as the next mom. However, breast cancer doesn't wait until your life is less hectic to appear. Which is why my chest pics are going to keep showing up, even if they make people uncomfortable. You know what's more uncomfortable than seeing someone's scarred-skin on social media? Breast cancer.
I'm thankful for the opportunity to use my platform to encourage women to check themselves. I've received countless messages from women telling me that because of one of my posts, they scheduled a mammogram and reminded a friend to do the same. Some have told me they've been diagnosed, while others had a (thankfully) near-miss. Every single message I get tells me that I'm doing something right and my journey with breast cancer is not in vain.
This article was originally published on