People Are 3D-Printing Face Masks For Healthcare Workers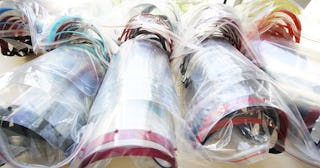 3D printed masks are seen packed for shipment at the Warsaw University department of physics in Warsaw, Poland on April 17, 2020 NurPhoto/Getty
People are printing 3D face masks at home to donate to local healthcare workers
Yesterday, nurses marched the White House steps to protest the lack of Personal Protective Equipment available in their hospitals and demand that the federal government step-up, as promised, and provide live-saving gear like N95 respirator masks. Too many healthcare workers have lost their own lives fighting COVID-19 and President Trump's supposed Defense Production Act doesn't appear to be manufacturing the PPE he claimed it would. Currently, healthcare workers have been making their own masks or relying on charitable donations from individuals to purchase masks from private companies. Now, some people have started purchasing 3D printers and are quickly making face shields and face masks to rival the N95 masks and are donating them to the healthcare workers who are holding down the frontlines.
A teenager in the Washington D.C. area printed a mask at home to wear to the grocery store, but when he made some for friends and shared photos on Instagram, a few nurses reached out, wondering whether he could make more.
"Using a design by Rowan University, which I've modified a bit for use on my printers, I am now working to supply local hospitals with 3D-printed personal protective equipment. Today, I showed a sample mask to a representative of a hospital in the Washington DC area, who asked me if I could provide more — as many of them as I can print, as fast possible," he wrote on his GoFundMe, which has raised more than $50K to date.
Steven Foxworth, a Florida teacher, has two 3D printers at home and is churning out as many face shields as he can.
Additionally, GCreate, an on-demand 3D-printing service, has turned their warehouse into a stockroom for all the face shields they've been printing lately.
A number of individuals even told Bloomberg that they literally purchased 3D printers specifically to join the fight and print PPE for healthcare workers.
These aren't the only stories — individual citizens all over the country and taking it upon themselves to supply their local hospitals with PPE.
Individual citizens should not have to carry the burden of PPE production. A teenager shouldn't have to buy a 3D printer so that the nurses at his local hospital don't catch COVID-19. Celebrities shouldn't have to write checks for hospitals to go onto Amazon and buy N95 masks. Grateful for the everyday heroes around the country doing their part to protect frontline workers, but it's time the federal government step up and do their part as well.
This article was originally published on