4-Year-Old Cancer Survivor Dresses Up As Herself For School's 'Superhero Day'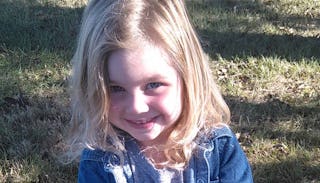 If you ask most kids who their favorite superhero is, you'll probably get answers ranging from Spiderman to Wonder Woman, and everything in between. One amazing little girl had to pick out a costume for her school's superhero day, and she picked a hero not many kids would think of: she chose to go as herself.
Josie Kimberlin is four years old and in remission from acute lymphoblastic leukemia. She was diagnosed in June of 2013 and underwent a long series of difficult treatments. Nine months after her diagnosis, her family got the amazing news that she was cancer-free.
Recently, Kimberlin's school hosted a Superhero Day to give kids a chance to dress up as a character they admire. Josie's mom, Alyssa Butler, tells the Huffington Post they were going through Josie's closet the night before the event and couldn't find anything superhero-like to wear. Finally, Butler had a brilliant idea and asked her, "Do you just want to go as yourself? Because you know you're mommy's superhero."
Josie loved the idea and showed up to school in her own special superhero outfit. She wore a cape and boots with a hand-decorated shirt. According to her shirt, her super power is "destroying cancer one day at a time." Step aside, Captain America. You've got nothing on Josie.
Butler tells the Huffington Post she decided to share the photos on her Facebook page to show others how strong kids fighting cancer are. On Josie's Journey, a Facebook page dedicated to updates on Josie's health, Butler writes, "My daughter has shown me how strong a child really is, how smart a woman really can be, and how easy my heart is broken. The day I heard the knews [sic] of my angel having cancer, I completely lost it. Shortly after I looked at her sweet smile, and realized that I have to stand up to be a stronger mother."
According to the American Childhood Cancer Organization, there are approximately 15,780 children ages zero to 19 who are fighting cancer right now. Each and every one of those kids is going through the hardest physical and emotional battle of their lives, but over and over again we see stories of their incredible spirit, joy, and inner strength. They really are superheroes in every imaginable way.
It's beautiful not only for Butler to pay tribute to Josie's amazing ability to overcome something so difficult, but also for Josie to be able to recognize that power inside of herself. She is so young and has been through so much in just a few years of life. For her to know, even at four years old, that she is strong, powerful, and not at all limited by what she's been through is nothing short of inspiring.