40 Fun And Easy Ways To Brighten Your Child's Day
by Jorrie Varney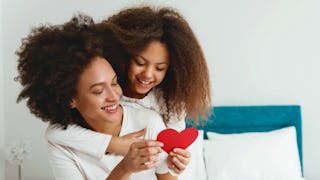 Tijana87/ Getty Images Plus
I swore I'd never say this, but things are different than when I was a kid. I don't remember ever feeling truly stressed out as a kid. Maybe I worried that I wouldn't get the jacket I wanted, or I'd get in trouble and not be able to go skating on Friday night, but real stress? Nah.
Kids today, on the other hand, have plenty of reasons to be stressed out. School shootings and cyber bullying are things I never dreamed of facing when I was in grade school, but now, that's a Tuesday.
Kids need to be kids. They need to smile, laugh, and be silly as often as possible. In fact, it's important for all of us to find little bits of joy every day—even the days fraught with monotony and familiar routines, but maybe even more so for the little people in our lives, and it doesn't take big stacks of money or tickets to see Taylor Swift to make that happen.
Here are 40 easy ways to brighten your child's day:
1. Use a dry erase marker to write a note on the bathroom mirror, so they see it first thing in the morning.
2. Throw a blanket down on the living room floor and have a picnic for dinner.
3. Build the greatest blanket fort your house has ever seen, and let them keep it up for a few days.
4. Have a dance party! Let them pick the music, turn it up, and dance until you can't move.
5. Put a sweet, silly, or encouraging note in their lunch box.
6. Have a movie night in bed, complete with popcorn and fun snacks. Do it on a random week night to really make them smile!
7. Tell them something you love about them that is unique or unexpected.
8. Share a special secret that is just between the two of you.
9. Play hooky from work and school to do something you both love instead.
10. Bring them a special snack or drink when you pick them up from school.
11. Let them pick out your wardrobe for a day and you pick out theirs.
12. Make breakfast for dinner.
13. Color a picture or write a short story together.
14. Give each other at-home manicures or pedicures.
15. Send them a text message with a silly selfie or a picture.
16. Go on a geocaching adventure.
17. Put the electronics down and play a board game together.
18. Take an evening walk. No phones allowed.
19. Paint rocks
20. Use sticky notes to leave them messages in unexpected places.
21. Play hide and seek together. Or another active, fun game.
22. Let them play with or do something you usually say "no" to.
23. Have a pillow fight.
24. Let them pick their favorite meal for dinner.
25. Take silly pictures together with SnapChat filters.
26. Draw mustaches on people in the newspaper or in a magazine.
27. Play eye-spy and give silly clues.
28. Run errands together, and let them do the grocery shopping.
29. If you have more than one child, spend time with them one-on-one.
30. Read a book together and do different voices for all the characters.
31. Let them have dessert before dinner.
32. Have an at-home ice cream party with lots of fun toppings.
33. Pass a notebook back and forth, with messages that are just between you.
34. Make up a sign or handshake with special meaning.
35. Bake cookies together, and let them lick the spoon.
36. Watch one of their favorite TV shows together.
37. Surprise them for lunch at school.
38. Have them describe their day with two truths and a lie. Try to guess the lie.
39. Try something new together, like learning a game or going rollerblading.
40. Give them a pass to stay up 15-30 minutes past their bedtime.
This article was originally published on