40 Merry And Bright Holiday Baby Names
by Rita Templeton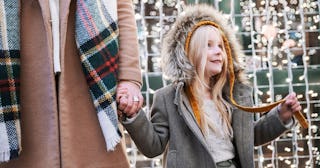 Nicole De Khors/Burst
No matter what you celebrate, the holiday season is always a time for gifts. And if the gift you're expecting this year involves labor and delivery — and we don't mean the Home Depot crew coming to set up a new washer and dryer — you might want to unwrap this list of special holiday baby names for your new arrival. After all, not everyone can be cool enough (pun totally intended) to be born in the season of lights, love, and festivity!
With its shiny green leaves and bright red berries, the holly plant is a traditional Christian symbol, but has become synonymous with Christmas whether you're celebrating it as a religious or a secular holiday.
What's Christmas without carols, right? This is a great name if you're looking for relative obscurity — it hasn't been in the top 1000 on the U.S. Social Security Administration's baby name popularity charts since 2006. If you want a more currently popular, albeit less obvious version, go with the beautifully old fashioned-sounding Caroline.
From its role in the nativity story to its place as the crowning jewel at the top of the tree, the star is heavy with Christmas symbolism. This could be considered a unisex name, though it definitely skews female.
You could spell it Belle-with-an-e, but if you take the E off the end, Bell has a distinctive holiday vibe. Perhaps as a first name you could go with Silver? Too much? Not if you're reeeeally into the holidays!
Clara Stahlbaum is the main character in the famed holiday-season ballet "The Nutcracker," which is performed annually by ballet companies all over the world.
This gorgeous and unique name is pronounced AY-ra (as opposed to EYE-ra) and means "snow" in Welsh. Definitely a less obvious way to pay tribute to the season, but just as meaningful.
Christmas Eve, the night before Christmas, when excitement crackles through the air … and parents stay up way too late waiting for those "tiny tots with their eyes all aglow" to conk out.
This name works at any time of year, but is especially poignant during the holiday season — because regardless of your belief system, faith ties them all together.
The super-traditional Christmas carol "Angels We Have Heard on High" is known in Latin as "Gloria in Excelsis Deo" … and contains the refrain that everybody knows: "Glooo-ooooo-ooooo-ooooo-ri-aaa." Which is why this name and Christmas go hand in hand. (Admit it, you're singing it in your head right now.)
If you're a fan of the Christmas movie classic Elf (and who isn't?!), this super-cute name is already on your radar as the name of the female lead, played by Zooey Deschanel.
Joy to the world! This is another perfect choice to commemorate any type of holiday, as joy and the celebrations that bring it are common threads.
RELATED: Happy Baby Names For Your Bundle Of Little-Girl Joy
Though it doesn't mean anything holiday-related, it sounds like a traditional favorite tree decoration: shiny, sparkly garlands of tinsel. (And hey — for a boy, Garland would be a great choice too!)
You could certainly spell it the traditional way — Mary — if you're celebrating the birth of Christ. But if you're celebrating a secular holiday, or just like the decidedly-jollier feel, why not go with Merry?
It's a beautiful name, but Nia is also the fifth of the seven principles of Kwanzaa. It symbolizes goals and purpose, for the self and for the community.
RELATED: Meaningful African Baby Boy And Girl Names That Are Also Rich In History
In Charles Dickens' beloved novella A Christmas Carol (and its numerous adaptations), Jacob Marley is the much-nicer business partner of the crotchety Ebenezer Scrooge. It could be a unisex name, but is currently more popular for girls.
If you're looking for a Christmas name, there is no more perfect one than Natalie, which comes from a Latin word literally meaning "Christmas Day." And for a boy, you could consider Natal.
The Feast of Santa Lucia (or St. Lucy) is celebrated on December 13th in Scandinavian countries. It's in celebration of St. Lucy, a 3rd-century Christian martyr persecuted for her faith. So it definitely fits into the holiday baby names category, even if it isn't widely celebrated among English-speaking populations!
This name means "faith," and is the seventh of the Nguzo Saba (seven principles) of Kwanzaa, celebrated on the seventh day.
This fragrant, coniferous tree is often used as a Christmas tree! But it can be found in different varieties all over the world, and some don't look like Christmas trees at all — so it's a great name for any season. It fits right in with the current botanical baby name trend, too.
RELATED: These Botanical Baby Names Are Ripe For The Picking
In 1897, a little girl named Virginia O'Hanlon wrote a letter to the editor of The Sun, a prominent New York newspaper, that read, "Dear Editor, I am eight years old. Some of my little friends say there is no Santa Claus. Papa says, 'If you see it in The Sun, it's so.' Please tell me the truth; is there a Santa Claus?" Editor Francis Pharcellus Church penned a thoughtful response containing the now-famous line: "Yes Virginia, there is a Santa Claus."
If you're hoping for a baby with a chill vibe, it can't hurt to name your little one — boy or girl, because this name is unisex — after the time of year when they were born.
Another natural choice (quite literally!) for a baby born in the winter months. And who doesn't want a little Snow in the summertime?
From the French Noël, meaning "Christmas season," this name also works for a boy or a girl. If you want to make it a little more feminine-looking, you could spell it Noelle.
Whether you're celebrating Christmas, Hanukkah, or Kwanzaa, they can all be found in the month of December, which makes this a perfect name for babies born during the season of celebration. There's also the option of simply Ember, if you want a more subtle reference.
If you're familiar with the Griswolds of National Lampoon fame, then you don't need a reminder as to why Clark — the lovable but bumbling patriarch of the Griswold family — makes the list of holiday baby names.
The name Jesse is Hebrew, and means "gift," so it's definitely fitting for a season when giving is at its peak. Another great (unisex) choice with the same meaning is Shai.
No Christmas would be complete without hearing the poem about "the night before Christmas," which was written by Clement Clarke Moore in 1823 (Clem would be a cute nickname, as vintage boys' nicknames are making a huge comeback right now). Moore's poem is actually titled, "A Visit from St. Nicholas." Which brings us to our next name …
St. Nicholas is a saint who lived in Turkey during the 4th century. He was a very rich man, and is said to have given freely to those in need, earning him sainthood. His legendary kindness became lore, and his Dutch version — Sint Niklaas — morphed into Sinterklaas, and finally, Santa Claus.
In Christianity, the archangel Gabriel is said to be the angelic messenger chosen to announce the birth of Jesus to the Virgin Mary.
RELATED: Baby Names (Divinely) Inspired By The Christian Faith
Jim Henson fans will recognize this name as the star of the beloved Muppet Christmas movie, Emmet Otter's Jug Band Christmas. And it has recently been announced that the 1977 classic will soon be getting a modern reboot, with script and music written by Flight of the Conchords' frontman Bret McKenzie.
We'd be remiss not to mention "the most famous reindeer of all" in our list of holiday baby names. But while most people aren't keen on naming their kid Rudolph, it does have the option of the nickname Rudy — which, like Clem, is one of those vintage boy nicknames that are (re-)gaining steam. Along with …
So cute, and so Christmas-perfect … if you're referencing Buddy the Elf from the movie Elf, that is. Otherwise, it's just a friendly-sounding name. But that's great, since it can work all year.
RELATED: Underrated Boys' Names From The 1880s
Speaking of elves, Alfie is a diminutive of Alfred, which means "elf counsel." Alfred itself seems a little stuffy, but Alfie is on-trend (it's got the vintage vibe too, plus "Game of Thrones" actor Alfie Allen helped bring it back into the spotlight).
A Hebrew name meaning "the Lord is my light," this is a fitting tribute to Hanukkah (i.e., the Festival of Lights!). It's a name you don't hear very often, but it's actually fairly popular — currently standing at #591 on the popularity charts.
The Douglas fir is one of the most popular types of Christmas tree. But if Douglas isn't your bag, you can go with another variety of fir tree — like Noble or Fraser.
The Maccabees — Matityahu and his five sons, Judah, Shimon, Yonatan, Yochanan, and Eliezer — led a three-year battle against the anti-Semitic Syrian ruler Antiochus, finally triumphing against his armies in what is called the "true miracle of Hanukkah." Thus, Judah is a fitting tribute for a holiday baby.
What's that in the toe of your stocking if you've been naughty? Oh yeah — coal! Or, in this cleverly disguised name reference, Cole. It's a name that nobody would ever guess is outright Christmas-related, yet it would have a really cute backstory. Your adorable little "lump of Cole."
Why is Pax a holiday baby name? Because Pax means "peace," which is the overarching theme of the season.
The reasons that Jack makes the list are twofold: first, because of Jack Frost — the personification of winter cold and chill — and second, because of "Pumpkin King" Jack Skellington, everybody's favorite otherworldly protagonist in the Halloween/Christmas movie The Nightmare Before Christmas.
You've heard of the Three Wise Men (also known as the Magi) who traveled following the star to bring gifts to the baby Jesus, but did you know their names? They were Melchior, Gaspar, and — you guessed it — Balthazar. If this seems like too big a name for a little guy, consider the cool-kid nickname Baz.
The holiday season is marked by a spirit of celebration … and so is a birth! If the winter months are bringing a new little person to share your traditions with, you just might want to commemorate that spirit with a merry, bright holiday baby name for the one who'll light up your life.
For more naming help, you'll find plenty of inspiration (plus a comprehensive name database!) in Scary Mommy's baby name section!
This article was originally published on