Your 48 Week Old Baby's Development And Milestones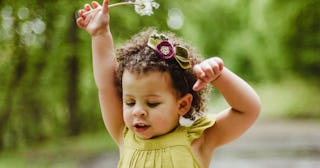 Emma Bauso/ Pexels
You officially have a 48 week old baby!
You're only four weeks away from that crazy one-year milestone! Hard to believe (if you birthed your baby) that this time last year you were waddling around getting ready to meet your little one.
Your 48 Week Old Baby's Development & Growth Milestones
Your 48 week old baby is movin' and groovin', possibly walking and probably trying to climb everything: drawers, cupboards, her crib, your pant legs. Now is a great time to lower the crib mattress or your baby might surprise both of you by making a premature exit out of her bed some morning. Babies at this age have become better at occupying themselves, but remember that if you can't hear her she's probably doing something she shouldn't — like scaling the baby gate and making a break for it, or eating dirt from the planters, or dumping your underwear drawer. Just to name a few.
Your 48 Week Old Baby's Health
Which brings us to an unfortunate fact: Babies get hurt. A lot. This is normal because they're very uncoordinated and make bad choices. Have a good first aid kit handy.
Should you join a play group? If you stay at home, this is a great way to get out of the freaking house and meet some people who are as exhausted as you are. Plus, your baby will get a chance to sit beside someone his own age and steal their toys. This is called parallel play and is a good way for you baby to start socializing with peers. Plus, you could likely benefit from some adult conversation, too!
Read More:
Your 49 Week Old Baby's Development And Milestones
Your 50 Week Old Baby's Development And Milestones
8 Reasons Not To Throw A 1st Birthday Party
This article was originally published on