5 Less Obvious '80s Records Your Teen Will Dig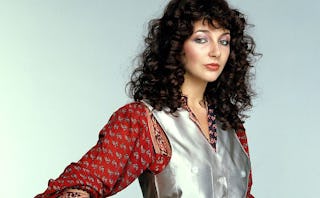 REX USA
Being a tween/teen in the '80s was an aural paradise. Back in those days, record companies invested in artists—not personalities—allowing them a record or three to grow into their sound, rather than a single track to rack up massive sales before dropping them through the void and into obscurity.
It's no wonder us folks of a certain age cling to the music of our younger years like marsupials. So why not share the wealth with our children? If you're looking for a timeless playlist to indoctrinate your tween or teen into the elevated tastes of our youth, the list of albums below is a great place to start. Hey—remember albums? What's more, lyrically, most of these tunes are nursery rhymes compared to what's currently ringing in your kids' ears from the radio.
1. 'The Hurting,' Tears for Fears
Ultimately, what comprises a truly great record are truly great songs. This release is full of those, but also the elevated production values bent the status quo into a distinctive soundscape that set these haunting melodies free, kind of like a black balloon into the sky on a rainy day. Songs like "The Hurting," "Pale Shelter" and "Mad World" drew an outline that many emo bands are determined to color in today.
2. 'Beauty and the Beat,' The Go-Go's
Even though they don towels and face masks on their album cover, The Go-Go's weren't as squeaky clean as that iconic image portrays. Originating from the late-'70s LA punk scene, infectious jangle-pop singles like "Our Lips Are Sealed" and "We Got the Beat" made them the first all-girl band to hit the top 10. But singles like "Skidmarks on My Heart," "This Town" and "Automatic" hint at their grittier origins and flash their raw underbelly, which is every bit as rad today as it was back then.
3. 'Remain in Light,' Talking Heads
No one watched MTV in 1981 without seeing David Byrne chop at his arm nonsensically in "Once in a Lifetime" a thousand times. But a listen to this entire record reveals a relentlessly danceable glimpse into the future—a smooth blend of complex polyrhythms inspired by world music, augmented by quirky, sampled blips and bloops. Every single song is great, but "Crosseyed and Painless" deserves to be played really, really loud.
4. 'Zenyatta Mondatta,' The Police
Recorded in just three short weeks, this album captured The Police at the height of their success with singles like "Don't Stand So Close to Me," but it's songs like "Canary in a Coalmine," "When the World Is Running Down" and "Driven to Tears" that stand stronger and more relevant than ever before. The lyrics will resonate more deeply with you as an adult than they ever did as a kid. Your kids will love figuring out that Adam Levine mastered his sound by mimicking Sting into a round hairbrush. And if you've got a child who can't stop drumming their fingers on the dinner table, exposure to the masterful drummer Stewart Copeland can only help further their cause.
5. 'Hounds of Love,' Kate Bush
Long before there was Florence Welch—before there was even Tori Amos—there was a mercurial Irish lass who didn't just write pop songs, she pushed the envelope wide open with bite-sized esoteric symphonies for her elastic, versatile voice. Her most commercial record, Hounds, captures Bush at her most succinct—her flair for innovation tempered by the confines of song structure to our benefit. "Running Up That Hill" remains a beautiful, timeless love song—the kind I wish there were more of (maybe Florence will cover it). "Cloudbusting" is the most infectious song ever inspired by Wilhelm Reich, and "Jig of Life" honors her Irish heritage. Your kids will be like, WTH? It's a far cry from Katy Perry—but in a really good way.
This article was originally published on