5 Things We'll Miss About American Idol & 4 Things We Definitely Won't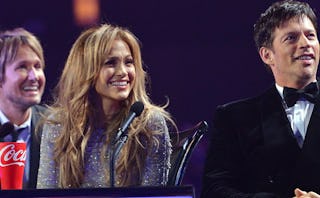 Yesterday's announcement that American Idol will call it quits next year after 15 mostly juggernaut seasons on Fox hit my family hard. (Well, maybe three out of four of us. My husband endures the show with me and our kids—but always wearing headphones and staring dejectedly at his iPad.) In the spirit of all things Simon Cowell—whom I still sorely miss five long years after his departure from the series—here's a swan song of the good, the bad, and the ear-wrenching from the ultimate TV singing competition.
What We'll Miss
The Truly Remarkable Breakout Star
Initial Idol winner Kelly Clarkson's voice still blows out all who followed her. Watching her get plucked from obscurity that fledgling season, then witnessing her rise to Billboard-topping, Grammy-winning super-songstress was thrilling. It's what hooked me on the show all those years ago. Because her musical march toward success—as well as those of Carrie Underwood, Chris Daughtry, Jennifer Hudson, Scotty McCreery, Adam Lambert and Phillip Phillips—is what the American dream is all about, right?
Judging J. Lo's Sometimes Tragic, Often Tarty Outfits
Every week begins the same: "What is she wearing?!" cries one of my daughters. People magazine's former "Most Beautiful" babe and occasional pop star treats her walk to the judge's chairs like a sashay down her own personal runway. Her shimmery boobies jiggle while on full display, her famous butt defies all laws of physics, yes. But it's her sometimes-chic, sometimes-slutty ensembles that take center stage. She can go from hip-hop trollop one week to Parisian society chick the next. I might not like her music or her movies all that much, but girl, it must be said: You got it going on. All eyes on you.
The Way Keith Urban Says "Ahrtistry"
Dude's from Down Under. His accent is frequently adorable. In my house, the way he pronounces "artistry" has become a catchphrase. Example: After a student violin or piano recital, my husband tells our girls: "Your ahrtistry was exceptional. I think you'll make it through to next week."
Crying With the Finale Winner
I'm not ashamed to admit it: The tears flow when the confetti falls. When a winner is crowned, it's like an awesome therapy session. Cathartic. I feel all fresh and clean and happy. Until the next morning, that is, when I wake up puffy-faced and remember it's all over 'til next January.
A Weekly Wednesday Night Date With the Kids
American Idol is family night. Before its audience numbers dwindled, it used to be family nights—Wednesday and Thursday. Save for the occasional risqué guest performance, it was a safe bet to watch with the kids, sort of like how my grandmother used to encourage me to enjoy The Lawrence Welk Show with her when I was very small. I guess we'll switch to The Voice now, which, trust me, is better than Full House reruns on the DVR, any day.
What We Definitely Won't Miss
Young White Dudes Strumming Guitars
Sigh. This season will surely be another showdown between the somewhat attractive rocker boy—as exciting as milquetoast or maybe Matchbox 20—and Idol's version of alterna-girl. (We'll find out tonight. Yawn. The suspense is killing me.) In past years it's been rocker boy versus R&B belter. Rocker boy versus Queen lead singer in training (which admittedly was entertaining, but rocker boy still prevailed). A variation of this theme was country rocker boy versus country rocker girl. The only year I ever rooted for rocker boy to take the top prize was back in 2012, when Phillip Phillips won, but that's only because he looks like a young Paul Newman, and I have a raging crush on him. Still.
Endless Sob Story Drama
Contestant Lazaro Arbos couldn't talk properly because of his serious stuttering—he could only sing. Danny Gokey lost his wife and Kree Harrison both her parents before their auditions. Anthony Fedorov was told he'd never speak, much less harmonize, after getting a tracheotomy as a child. Chris Medina's fiancé suffered a serious brain injury after a car accident. Katie Stevens' grandmother had Alzheimer's—so she wanted to win big before she'd be forgotten. (Hmm. This last one's a tad suspect.) My heart goes out to all these young people, of course. But shame on Idol producers for milking their private angst with sappy montage videos and extreme close-ups of dripping wet eyes to propel ratings.
Harry Connick, Jr.'s Clown Show
Harry, you're a ham, a total hog for attention. You suck the oxygen out of every episode. You seem to wither when you're not in the spotlight. And while you're an excellent judge with serious musical chops—you've schooled us viewers about pentatonics, after all—the show ain't about you. Let the kids shine for a second, would ya?
Those Asinine Ford Commercials
So happy I don't have to sit through any more shiny happy Ford ads embedded into the broadcast, where the poor contestants are pimped out to the automaker like underage whores. Frankly, these annoying spots alone were almost enough to drive me away from the show years ago.
This article was originally published on