5 Uncool Songs From the '80s (And Early '90s) That I Just Can't Give Up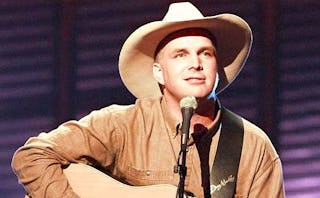 We all like to indulge in a little revisionist history when looking back. That tragic perm you got the weekend before picture day can be explained away with an oblique reference to the '80s obsession with big hair. The senior quote that you thought made you seem deep, but only confirmed you were a clueless teenager—"Irony!" you claim.
Retrofitting yourself with unearned coolness is, indeed, one of the privileges of getting older, but there are some things that can't be explained away. I was an early adopter of Soundgarden and Pearl Jam, but I also saw Poison live more than once and hung around waiting to catch a glimpse of the guys from Enuff Z'Nuff getting on their tour bus. We all have our own cringe-worthy musical skeletons packed away in our closets, metaphorically stuffed behind an ESPRIT crop top and a "Spuds MacKenzie, Dean of Partyology" poster.
Time to embrace the awkward! Shine the harsh light of the future on those truly uncool songs that you just can't quit!
1. 'Sister Christian' by Night Ranger
Don't let anyone tell you that this song has ever been cool. Sure, it hit No. 1 (in Canada). Sure, Night Ranger has some actual musicians with legit bona fides like Sly and the Family Stone and Montrose, but that won't save me here. It also won't stop me from cranking it up and signing for all I'm worth in the drive-thru at Taco Bell. "What's my price for flight?" you ask, Night Ranger? My own dignity, obviously.
2. 'How Am I Supposed to Live Without You?' by Michael Bolton
Who can deny the soulful power of late '80s Bolton? The hair. The voice. He opened for Ozzy, and hooked up with Nicollette Sheridan from Knots Landing. He had it all. Yet, he is almost legendarily uncool. Michael Bolton remains a unique and singular talent and even has a wicked sense of self-deprecating humor, but cool? Not even with those funny cable ads. Do I care? When it comes to this heart-wrenching, lovelorn stew of sappy schmaltz, not even a little bit.
3. 'Conga' by Miami Sound Machine
Before Gloria Estefan was, well, Gloria Estefan, she and her husband Emilio brought us the rhythm of the island, "like the sugar cane so sweet." On the outside, I professed white-hot rage at the popularity of this song, which saturated not just the airwaves of my South Florida home, but all the airwaves, everywhere, around the world. On the inside, I Conga'ed my way around the house, through the grocery store, and even while baking at the beach. These days, it's part nostalgia, part homesickness, but I gladly take Gloria's advice, and just don't fight it.
4. 'God Gave Rock 'N' Roll to You II' by Kiss
This one is a twofer. Liking Bill and Ted's Excellent Adventure was cool. Liking the sequel, Bill and Ted's Bogus Journey? Not so much. I loved it and still do. This Kiss cover of an Argent song from the '70s is on the Bogus Journey soundtrack and is the triumphant finale tune in the movie. It is overdone and mostly ridiculous. It is also amazing. I don't know if God put rock and roll in the "soul of everyone," but I will take Paul Stanley's word for it. (Deep cut for all my Wyld Stallyns fans out there: Station!)
5. 'Friends in Low Places' by Garth Brooks
Is Garth Brooks cool? I guess it depends on whom you ask. When you're trying to be all emo or alt or metal, the answer is always no. Even so, there's no denying the appeal of this crossover smash about toasting your ex and hanging with your buddies who have always been more fun anyway. Everyone I know knows the words. Everyone I know sings along. No one complains if Low Places pops up on the jukebox, but hardly anyone will take the credit. (There should be more places these days with jukeboxes.)
This article was originally published on