People Are Writing Messages To Their 5-Year-Old Selves In The Spirit Of Mental Health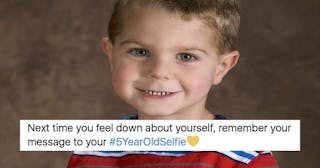 Getty/Twitter
A UK-based mental health organization started #5YearOldSelfie, asking people to give advice to their younger selves
If you could give 5-year-old you three compliments, what would they be? That is part of the viral challenge one UK-based mental health group, Young Minds, has started in hopes of promoting self-love. In addition, users are uploading photos of their younger selves along with the hashtag #5YearOldSelfie and the result is a super adorable, powerful, and inspiring social media movement.
The instructions given by Young Minds via Twitter are simple: find a photo of your younger self, write three things you'd tell that child, use #5YearOldSelfie and tag three friends to help spread the love.
"Next time you feel down about yourself, remember your message to your #5YearOldSelfie," their tweet concludes.
"When we feel good about ourselves, it's easier to deal with life's challenges," the organization stated in a video. "When we feel negatively about ourselves it can be hard to think positively. You can start to feel that you don't matter, that you're not good enough, that you don't deserve help, but none of these things are true."
"We all have negative thoughts sometimes and tell ourselves unkind things," the video continues. "But how we talk about ourselves affects who we believe we are."
The video then explains the "trick" of imagining yourself as a child, which can be made simpler by finding a photograph or something that reminds you of that person. Then, think about all the things you would say to make that child feel okay, loved and reminded of all their good qualities. "Remember this child is you — and you deserve as much kindness and praise as when you were little."
English YouTube star Daniel Howell got the thread going, revealing he "literally peaked age five," and added that he was "cute, poised, sassy," demonstrated "infectious happiness," and had a "big imagination and an open heart."
So many people followed suit, and each message was as moving as the next. Some honored their creativity and intelligence, while others encouraged their younger selves to stand up for themselves more and to ignore the words of bullies. Each message was honest, poignant, and thought-provoking. I mean, why can't we love ourselves like this every day?
https://twitter.com/jetpack/status/1159530935769063424
https://twitter.com/jetpack/status/1159540701907968000
A few were quick to point out how important the campaign is. I mean, seriously? Social media is usually associated with tearing down self-esteem. What a great reminder that it doesn't have to be a place filled with negativity. It can be used to promote mental health and self-love in a major way.
If you haven't joined in on the #5YearOldSelfie challenge, we encourage you to do so. We could all use an extra mental health boost!