6 Awesome Things About The World Cup For Mothers And Daughters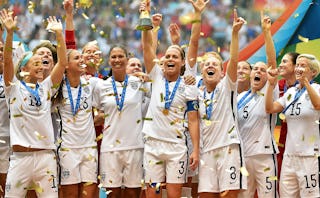 1. A lot of little girls don't even know that women's sports used to be (well, still are, but let's set that aside for the moment) marginalized. A friend's daughter asked, mid-game, "Is there men's soccer too?"
2. So, no one wants to watch women's sports? NPR reports: "It is the highest metered market rating ever for a soccer game in the U.S. on a single network." Can I get a "SO THERE"?
3. Those ladies are full-grown women. Unlike a lot of other public-eye pursuits for women, like, say, performing, dancing or modeling, in which women reach their peak at 19, these players are playing—and playing hard—well into their 30s and 40s.
4. They demonstrate that success sometimes means letting your teammates take the starring role. Abby Wambach, after years of working and waiting, spent most of Sunday's game on the bench.
5. And they give credit where credit's due. "When Wambach entered the game in the second half, [Carli] Lloyd—in a classy show of respect for the team's longtime leader—gave her the captain's armband to put on." This is a great lesson for young girls about defying the "catty" stereotypes that women have endured for, well, forever.
6. There's no bulls&*t, like you might see in, um, some other kinds of sports.
This article was originally published on