6 Types Of Adults You See At Summer Concerts
by Lauren Stevens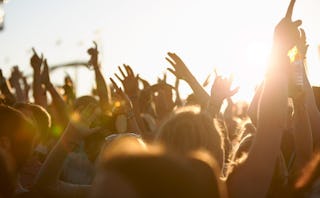 Summer is upon us and peak concert season has arrived! Will you be one of the many (middle-aged) adults catching tunes, partaking in adult beverages and enjoying a night away from the daily grind of family life? Concerts are prime people-watching fodder, so here are a few types of people to look out for:
1. Moms' Night Out
You can easily spot this gaggle of women, typically found at shows featuring throwback boy bands (Mixtape Festival) and artists their preteen daughters listen to (Taylor Swift). These women are living it up on this rare occasion—a day/night/weekend away from the kids. They're tipsy (drinking drinks in every color of the rainbow), they're loud, they're wearing jeans and concert tees (sometimes vintage), and they have a DMT—a designated milk tester. The DMT is the woman drunkenly squinting as she tries to read the instructions on the package to help her friend test her breast milk after the show.
2. Dads' Night Out
Not to be outdone by their wives, these dads are reliving their youth (read: vitality) with their old college buddies, talking about the shows they saw in '97 and epic beer pong tournaments. You can find them at shows ranging from Phish to Mötley Crüe, drinking Michelob Light and making friends with college-aged guys with marijuana. These dads will be trying to impress the younger set with stories of the good ol' days.
3. Dad Night Out
This guy loves music so much that he goes to shows by himself. His wife a) doesn't like the music he was into when he was a teen, or b) was unable to find a babysitter for an evening out. You'll typically find this dad at weeknight shows by himself, enjoying the sounds of the Pixies, Siouxsie and the Banshees or Peter Murphy. He'll be drinking a Diet Coke, because he has to drive himself home afterward, and will be clutching his prized concert tee while sitting in his theater seat.
4. Hipsters
Skinny jeans, "I am the 99 percent" tees, shaggy hair, tattoos and a carefully put together disheveled look—they may look a little grungy, but they sure smell nice. Hipster moms are easy to spot, wearing their babies and breastfeeding in secluded corners of the venue. Go to any indie music festival, and you're sure to bump into hoards of hipsters. Oh, and they'll be the ones drinking craft beers (kombucha or bottled water for the moms) and talking about the socio-political ramifications of today's governmental policies.
5. Yuppie (or Muppie)
It can be difficult to ascertain between a Hipster and a Yuppie, but there are some definitive differences. Yuppie men will be the ones without visible tattoos, wearing button-down shirts and checking their Apple watches. Their wives will be capturing selfies on their iPhones, wearing brightly colored Lilly Pulitzer dresses and accessorizing with J.Crew cardigans and push present jewelry. They'll be tailgating before the show outside of their Volvos with scotch, white wine spritzers and hors d'oeuvres.
6. Married Couples
These men and women will be holding hands, grinning and side-stepping mud pits, while commenting on what a wonderful time they're having. These are token hours away from the kids, and these couples will make the most out of the experience—rain or shine. They'll buy matching his and hers concert tees to commemorate the experience, and use this outing to rekindle both their youth and their love for each other. Can be found at any show featuring groups that were popular when they were dating, but the show doesn't matter, really, because they got a day away from the kids!
Who gives a shit which group you belong to (or don't), just enjoy your precious time away this summer. Take in the tunes, have a few beverages, spend some quality time with your friends or spouse, and most importantly, have some fun adult time while letting your hair down!
This article was originally published on