6-Year-Old Shot In The Head By 'Celebratory' New Year's Gunfire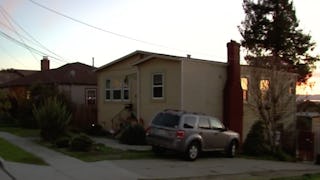 Image via ABC 7 News
"Celebratory" shooting on New Year's Eve has left a six-year-old girl hospitalized with a bullet lodged in her brain
A six-year-old girl was struck in the head and severely injured by a stray bullet in Oakland, California, on New Year's Eve. Police believe that the shooting was an accident caused by "celebratory" shooting on the holiday, a practice that's illegal in the state and across the country.
According to local news stations, the girl's family was at a New Year's Eve party and outside watching the fireworks display when the child suddenly dropped to the ground. Her father thought the girl had fallen and hit her head, and took the bleeding girl to the hospital, where the gunshot wound was discovered.
She's in stable condition at USCF Benioff Children's Hospital, but still has a bullet lodged in her head.
A neighbor heard the shots.
"I heard a lot of gun fire … It was like boom, boom, boom, boom!" neighbor Roxanne Perez told Fox 12. "And I told my husband, I said, 'Baby we better get our butts in the house before we get hit. Somebody's going to get hit.'"
Another neighbor, Latoya Keller, said that celebratory gunfire is common in the neighborhood on holidays – and that last year, her mother's car windshield was struck by a stray celebratory bullet.
Police also reported that another car was damaged by celebratory gunfire in the same neighborhood on the same night.
Oakland Chief of Police Anne Kirkpatrick, who visited the child in the hospital, had a simple message for the city: put the guns down.
"This is our mantra, it is put the guns down," she said outside of the hospital. "It is foolishness, it is unnecessary, and in this case, quite an innocent child was affected and harmed by this foolishness," said Chief Kirkpatrick.
She also urged possible shooters to come forward and admit to fault if they thought they could be responsible.
"An innocent child was affected and hurt by this foolishness," Kirkpatrick said. "I hope it pierces your conscience to know that your gunfire last night resulted in the critical care of a 6-year-old. And I would ask you to come forward."
ShotSpotter technology recorded multiple gunshots fired at midnight, when the girl was hit – and authorities say that the gunfire could have come from up to a mile away.
Police and Crime Stoppers are offering up to $5,000 in reward money to anyone who helps authorities find and arrest the person who pulled the trigger.
Celebratory gunfire is illegal in all 50 states, though it ranges in category from a misdemeanor to a felony. In California, discharging a firearm into the air is a felony punishable by up to three years in jail. If a falling bullet ends in a fatality, the person can be charged with murder.
Injuries caused by celebratory gunfire are more common than you may think: there are dozens of incidents each year in the United States and Puerto Rico, and a significant number are fatal. Almost all of them occur on New Year's Eve or the Fourth of July.