7 Songs From My Youth That Help Me Parent In My 40s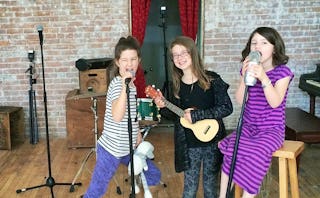 I wonder if that makes me old? Who am I kidding? Of course it does—the bagger just called me Ma'am. I passed the 40-year mark without much fanfare. I didn't suddenly feel old or wise. I'd already realized that sparkly eye shadow and miniskirts aren't the most flattering choices for me, but I rock a few tiny braids in my hair without apology.
I look at pictures of myself from my past and feel a kind of tenderness. The baby face that I thought was fat! How adorable is it that I thought making out in the basement with a boy while Peter Gabriel's "In Your Eyes" played meant that we were truly meant for one another? How deluded was I to think that working as a carpenter with a Camel Light hanging out of my mouth and being able to ash into a Mountain Dew bottle made me cool? What was up with the perms?
I wish I could undo having worn that double-breasted, acid-wash jean jacket with faux suede panels and elastic waist, but that ship has sailed. So has the long period of adoring Rick Astley. I don't wish away the times I fell ass over tea kettle for jerks who didn't deserve me. The hours spent next to my boom box playing, rewinding and replaying "If You Leave" and "Groovy Kind of Love" are precious to the fortysomething me. We live the days of our childhood and teen years as we are in them, not with the wisdom that comes from surviving them.
That wisdom, though, is going to come in handy as I help my daughters navigate the shoals of their own adolescent lives. I want them to make bad fashion choices and experiment with their hairstyles and, on occasion, crush on the wrong person. I hope they avoid the cigarettes, though, because maternal understanding only goes so far.
I know it's going to get dicey around here. So, as we hurtle into the tween years, I'm going to rely on these seven songs when I am uncertain about how much to share or how much to steer. These songs immediately take me to moments in time, making me feel alive and connected to a part of myself that isn't wound too tight or at wit's end.
1. 'Girls Just Want to Have Fun' by Cyndi Lauper
Through the volatile mood swings and hair color changes (theirs and mine), deep down we're still us.
I come home in the morning light
My mother says when you gonna live your life right
Oh mother dear we're not the fortunate ones
And girls they want to have fun
Oh girls just want to have fun
2. 'Don't You (Forget About Me)' by Simple Minds
No matter what's bugging us or how difficult things get, we have each other…and Pitch Perfect.
As you walk on by
Will you call my name?
As you walk on by
Will you call my name?
When you walk away
3. 'Mr. Jones' by Counting Crows…
…and Adam Duritz, because we're all just doing our best to fit in, get along and find our way.
We all want to be big stars, but we don't know why
and we don't know how
But when everybody loves me, I'm going to be just
about as happy as I can be
4. 'Torn' by Natalie Imbruglia
A gentle reminder that in the moment, heartbreak is real and all-consuming. Eventually it moves to the past, but it's OK to honor it.
I'm all out of faith
This is how I feel
I'm cold and I am shamed
Lying naked on the floor
Illusion never changed
Into something real
I'm wide awake and I can see
The perfect sky is torn
You're a little late
5. 'Don't Speak' by No Doubt
This is the anthem for letting the feels happen. Squashing tween emotions because I'm not one isn't fair.
Don't speak
I know what you're thinking
And I don't need your reasons
Don't tell me 'cause it hurts
Don't tell me 'cause it hurts
6. 'Right Here, Right Now' by Jesus Jones
Getting hung up on where I've been or where time is going just steals this moment.
Right here, right now
There is no other place I want to be
Right here, right now
Watching the world wake up from history
7. 'Thinking Out Loud' by Ed Sheeran
I wonder sometimes if the songs that the girls love today will be as evocative for them when they parent. Will they look tenderly at their kids as they hear stories of bullying or mean girls and hear Katy Perry's "Roar"?
I got the eye of the tiger, a fighter dancing through the fire
'Cause I am a champion, and you're gonna hear me roar
Louder, louder than a lion
'Cause I am a champion, and you're gonna hear me roar!
Will they be inspired to crank angry songs to deal with their cranky, old mom? I honestly have no idea. I just know that I am going to need to be able to bust out a fierce Ed Sheeran "Thinking Out Loud" riff to neutralize the inevitable dance between this mom in her 40s and these girls of mine.
Maybe it's all part of a plan
Well, I'll just keep on making the same mistakes
Hoping that you'll understand
This article was originally published on