7-year-old Reminds Us We Can All Help By Raising $10K For Kids in Flint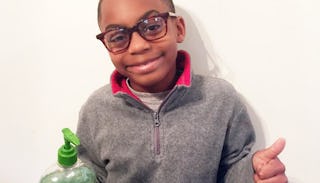 Image via GoFundMe.
A little boy raised more than $10,000 for schools dealing with the water catastrophe in Flint, Michigan.
One 7-year-old boy is reminding everyone that they can help people in horrific situations with his incredible fundraising efforts to support elementary schools in Flint, Michigan.
The problems started in April 2014 when, in an attempt to save money, Flint city officials stopped using Detroit's water system and started supplying residents with water from its own treatment plant that brought water in from the Flint River. It is unclear how many people consumed the contaminated water, but all of the Flint residents under six years old, about 8,657 in total, have been exposed to toxic amounts of lead, according to the Detroit Free Press.
When Isiah Britt, of Virgina, learned about kids being poisoned by the toxic water he was moved to help. But when he called Eisenhower Elementary Isiah found out that the students and teachers needed something more than water – hand sanitizer, The Washington Post reported.
The water crisis still hasn't been completely fixed by the elected officials who are responsible for it, prompting President Obama to declare a state of emergency and Brownie Girl Scout Troop 71729 to write letters begging Michigan Governor Rick Snyder to help the people of Flint. The world was watching as this nightmare unfolded and started sending bottled water, including celebrities like Cher.
But now, the school's secretary Lisa Palermo told Isiah, schools needed hand sanitizer more than anything because students are scared to wash their hands in the tap water. The fact that the governor didn't know this was a current problem educators had as a result of the water crisis shows again how unmotivated he is when it comes to helping the people of Flint. Thankfully, Isiah called and talked with Palermo about what problem the second-grader could try to solve for the elementary school kids.
"His voice, his demeanor, everything about him touched my heart," Palermo told The Post. "I've worked with the district over 20 years and I've never, the words don't explain it, he touched my heart to no end."
Isiah, with the help of his parents, set up a GoFundMe page to raise the $500 he would need to purchase hand sanitizer for every classroom at Eisenhower. He quickly hit his goal and thanks to the kindness of others, who also want to help the people of Flint, Isiah surpassed it. In 17 days, he raised $10,701 – enough money to purchase hand sanitizer for all 12 of the city's elementary schools. Isiah's next steps include helping daycares or women's shelters in Flint, WTVR reported.
"That was the best day of my life, trying to help a different school. It doesn't matter if you're small. It doesn't mean you can't do big things," Isiah said.