8 Gifts I'm Giving Myself This Holiday Season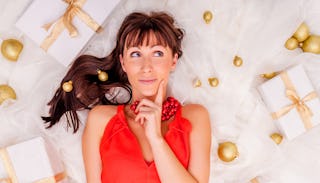 sunemotion/iStockphoto
Now is around the time when my kids start asking me what I'd like for the holidays. This, of course, is a trick question. Gazing adoringly at her delightful offspring, a more enlightened mom than me might say, "Oh, I don't really need anything," or "You are my present!"
Yeah, OK. Who are these people? Clearly they are not your average "racing around like a rabid reindeer to buy all the things on the list" mom whose kids brawl over who finished the Sugar Cookie Toast Crunch cereal. Rather, they are well-rested folks who have managed to transcend the melee and apparently all earthly desires.
I am not one of those people. I have a major wish list, which may or may not include a luxurious cashmere wrap I glimpsed in the Neiman Marcus catalog a few pages past the his and hers Lilly Pulitzer golf carts. Unfortunately for me, my kids would have to save up two years' worth of allowance to afford that wrap, and while there are other more reasonable items on my list, my kids pretty much ignore them. They're quite sure I'd rather receive another coupon book, redeemable for "one kitchen floor sweeping" and "a 7-minute hair brushing," or yet another adorable hand-painted mug that says "Best Mom Ever."
Don't get me wrong: I absolutely treasure the three sets of miniature handprints pressed on craft paper, the cracked rainbow candle I'm not allowed to burn because then it would be gone, and the disintegrating macaroni necklace gleefully bestowed on me almost a decade ago.
I love all the heartfelt, homemade shit my kids give me, but there are a few other things on my list that my kids and husband just can't come up with on their own. If I want my heart's desires, I'll have to wrangle them for myself. Let the gift giving begin!
1. Endless Peppermint Mochas
I know all you Harvest Festival junkies eagerly await the return of the Pumpkin Spice Latte each year, but that particular cup of holiday cheer is not for me. I'm a peppermint mocha gal, and yes, I'll have whipped cream. Why are you even asking?!
I usually contain myself to just one every so often, but this holiday season, I'm sipping those babies down whenever I damn well please. Being mocha-ed up is a huge advantage when you're dead set on claiming the last remaining Hatchimal within 100 miles. #ShowNoMercy
2. Finishing My Coffee While It's Hot
Speaking of coffee, it's a personal dream of mine to finish my morning cup while it's still hot. One of my three kids is always interrupting me with an urgent need like, I dunno, breakfast. Fend for yourselves, children. Eat those heavily iced gingerbread people from the cookie swap and leave me be with my steaming mug of liquid gold.
3. Chair Massage
I often see those Zen chair massage guys in their wrinkled linen shirts and battered clogs, loitering just inside the doors of one store or another. While my dream spa day includes a 90-minute hot stone massage from a guy named Bruno and a flute of top-notch champagne, I'll take what I can get. In this case, what I get is my face stuck in a funky padded ring while some patchouli-scented stranger snaps on his medical gloves and goes to town on my neck knots for 10 minutes. It's awesome.
4. New Underwear
I always need new underwear, but no one ever gets it for me. I guess the kids are just too lazy to shop for those animal-print briefs I love so much, and my husband knows that the lacy stuff he gives me is not suitable for everyday activities that include squatting down to tie little-kid shoelaces. Guess that means I'll have to make a trip to the intimates department all by my lonesome. #Winning
5. New Perfume
Do not — I repeat — do not ever let your kids pick out perfume for you. You will end up smelling like a pole dancer who fell in a vat of cotton candy, then stepped into a fresh pile of Play-Doh. Perfume picking is better left to the wearer. Now, where's the Jo Malone counter?
6. Total Control of the Car Radio
I'm declaring December "Mama's in Charge of the Music" month. For 31 days, I get to choose what we listen to in the car. If I want to play Christmas music all the time, I'm gonna. So what if we're Jewish, and the kids have never heard of Bing Crosby. Or maybe I'm in the mood for endless '80s alt-rock, the Billy Joel channel, or a little emo. Don't like it? OK. Fine. We can listen to Spotify…my Spotify!
7. Binge-Watching Netflix
OMG, have you seen The Crown? What about the Gilmore Girls reboot? Yeah, me neither, but that's all about to change. I'm holing myself up in my bedroom, door firmly closed, earbuds in for the next three weeks' worth of evenings. If anyone asks what I'm doing, I'm wrapping presents — lots and lots of presents.
8. Takeout
The less cooking I have to do, the more time I have for Netflix, so yes, we're having pizza again, kids. You love pizza. Think of it as an early Hanukkah present. You're welcome.
By the time I'm done gifting myself, there won't be anything left on my wish list. Hmm…I wonder what the kids will get me. I guess I could use one more coffee mug, as long as it's decorated with my favorite handprints.
This article was originally published on