8 Reasons Gen X Still Misses Patrick Swayze
by Nicole Johnson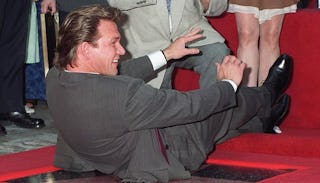 Image via Featureflash/Shutterstock
August 21 marks 28 years since the release of Dirty Dancing, one of Patrick Swayze's most successful films, and this coming September will be six years since his death, at 57, from pancreatic cancer. Though he's gone, Swayze is still beloved. Here are eight reasons we Gen Xers still miss one of the greatest badasses of '80s and '90s moviedom.
1. He had some epic one-liners. Arguably the most famous, "No one puts Baby in the corner," made every teenage girl swoon and wish that her parents would drag her on a family trip to some cheesy resort in the Catskills. And when he said his final "Ditto," to Demi Moore in Ghost, there wasn't a dry eye, not even from Demi. That wasn't just great acting; Patrick delivered every line with the perfect combination of sincerity and sexiness.
2. The man had moves. It is impossible to forget the way he taught an awkward Baby, with her spaghetti arms, to cha-cha. Gen X's version of Fred Astaire showed his unmatched grace and agility when he gave Baby dance lessons on a log. And let's not forget that in 1990, he competed with Chris Farley in the epic and hilarious Saturday Night Live skit where they both tried out for a coveted spot as a Chippendales dancer.
3. He was a triple threat. Patrick Swayze didn't just dance and act; he also sang. As '80s tween hearts swooned everywhere, his long locks blew in the wind while he poetically crooned, "She's like the wind through my dreams…she rides the night next to me," in his leather jacket on MTV, back when they still played music. The song even reached number three on the Billboard Hot 100.
4. He looked equally good in jeans or a suit. Patrick could rock anything, from tight shiny pants and bare chest in his famous SNL skit with Chris Farley to the over-the-top dresses he wore when he played a drag queen in To Wong Foo, Thanks for Everything! Julie Newmar.
5. He played leaders like a boss. As Darrel "Darry" Curtis in The Outsiders, he dropped out of high school to take care of his two younger brothers, Sodapop and Ponyboy. In 1986's Youngblood, he played hockey veteran to Rob Lowe's newbie as they skated on the ice together. Finally, when the Russians attacked a small Colorado town in Red Dawn, it was Swayze who led the group against the Soviets.
6. Patrick Swayze was a loyal romantic, and while other leading men in Hollywood were serial daters or womanizers, he was a one-woman kind of man. He met his wife Lisa in 1970 when she took dance lessons from his mother. She was 15, he was 18, and it was instant love. They married in 1975 and stayed together until his death in 2009. The two even danced together at the World Music Awards. Their marriage withstood a miscarriage and alcoholism, and his wife stood by him as he succumbed to cancer. A 34-year marriage is remarkable by Hollywood standards.
7. In the romantic supernatural thriller Ghost, he made us realize pottery was so much more than the ashtrays and coffee mugs we made for our parents in art class. At least it could be with Patrick Swayze by our side. That scene brought new life to the 1965 Righteous Brothers hit "Unchained Melody" as we all listened and dreamed of one day finding a guy just like Patrick.
8. Whether singing, bar brawling, surfing or dancing in drag—Swayze always looked cool. In a time when men didn't sing and dance, he did it with a masculine sexiness no one thought or dared to make fun of, and we thank him for that. He earned People magazine's 1991 Sexiest Man Alive title honestly.
No matter what the scene, Patrick Swayze was always remarkable. He made a generation of young girls yearn and showed young boys that it was okay to be both vulnerable and tough. We miss him more now as adults because we finally understand how rare of a man he was.
This article was originally published on