8 Ways 'The Americans' Makes Me Miss the '80s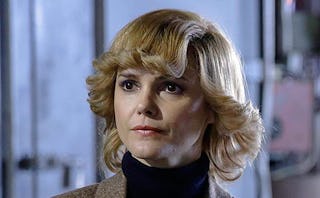 Patrick Harbron/FX
The Americans, easily the best thing on television, is more than just a brilliant spy drama that's also a show about marriage. It's the only show to use DIY dentistry as a metaphor for a complicated relationship and the only show that would win top prize at the Wig Awards (if the Wig Awards existed). It's also my weekly immersion into the gloriously weird yet simple decade of my youth. Herewith, 8 ways that The Americans makes me long for the '80s. (Spoilers ahead!)
1. Free-range parenting, before it had a name. By 2015 standards, Philip and Elizabeth (Soviet spies living in the DC suburbs) are epically failing at parenthood. Calling their children "latch-key kids" is quite the understatement. By the time I was 17, my parents were comfortable enough to leave me at home, without supervision, when they went away for the weekend. Until, that is, they found out about the notorious open-house parties I threw in their absence. (It was fun while it lasted.)
2. Real books in bed. Teenage Paige, the daughter of our protagonists, makes me nostalgic for falling asleep with a hardcover tome open on my chest. I would like to trade my nightly adult ritual—obsessively checking Facebook and falling into its deep blue light of despair—for one of those delightful hardcover books.
3. Old-school Scrabble. Words with Friends can kiss my ass. I long for the days of lining up tiny, cool-to-the-touch lettered tiles with my fingers like they do on the show, listening to the satisfying plunk of a triple word score. (If I had played Scrabble with a Machiavellian spy-handler played by Frank Langella, I might not feel so nostalgic, of course.)
5. Political innocence. Sure, this show regularly features wanton murder and delusional geopolitics, but there is something refreshing about sides taken for a cause other than money or power. In the pre-Citizen's United universe of The Americans, earnest (albeit extremely distorted) values are the prime movers. Everybody wants to change the world—and still believes they can.
6. Elegance in the era of Aussie Sprunch Hair Spray. Most sartorial reminiscences about this decade showcase the worst of the worst—the biggest shoulder pads duke it out with the biggest hair. Yet The Americans manages to hit the most gorgeous notes when it comes to '80s fashion. It doesn't hurt that Keri Russell's perfect frame is seemingly made for neutral wrap dresses and high-waisted Lee jeans. She has made me want to wear a tight black turtleneck under a smart blazer for the rest of my life.
7. Adam Ant. When you're fifteen and a much older and wholly inappropriate man is clandestinely meeting you at a party with a bag of weed, it always helps when "Goody Two Shoes" is playing on the stereo in the background. It also helps when that man is sexy Matthew Rhys in a cool leather jacket and aviators.
8. Uninterrupted dinner with other humans. Uncomfortable silences, wretched secrets, manipulation and intrigue over spaghetti—bring it on. I'd trade a single iPhone-free meal for the evil machinations of KGB operatives in a heartbeat. Philip and Elizabeth could easily recruit me if they promised to deliver me to a world without selfies, emojis and Snapchat.
This article was originally published on