8-Year-Old Starts GoFundMe To Buy BFF A New Wheelchair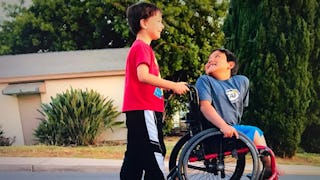 Image via GoFundMe/Paul Burnett
These two are bestie goals
What do you do if you see your best friend tipping over in their wheelchair? Or unable to fit in the bathroom? You raise thousands of dollars for a new chair, of course.
At least that's what one eight-year-old boy did for his friend, and their story is melting hearts all over the internet.
In a remarkable story of love and friendship, Kamden Houshan and Paul Burnett are bestie goals all the way. The two live in California and have been best friends since kindergarten. They like to play superheroes, eat McDonald's Happy Meals, and play at the park.
While Burnett never acted like his friend was any different because of his wheelchair, he did notice that sometimes it simply didn't work for his friend. One day while the boys were visiting a farm on a playdate, Paul saw Kamden's wheelchair tip forward and dump him out.
"Paul was just in shock," Jenny Burnett, Paul's mom, tells TODAY. "We didn't know that it had a lot to do with the chair … it wasn't really fitted for him."
Kamden was born with a tumor on his T2 and T3 vertebras. He's had surgeries to make the tumor smaller, but it has taken over part of his spinal cord. As a result, Kamden has paralysis in his lower limbs and relies on a wheelchair. But, he's also a growing boy with growing needs.
Paul knew his friend couldn't afford a new chair because funding for it is provided by Medicare, which only provides money every five years.
"We couldn't afford another chair. We put it on the back burner," says Yvonne Houshan, Kamden's mother.
So Paul started a GoFundMe campaign for his friend.
"His wheelchair has fallen forward many times and that sucks. Also, he has a really hard time pushing it because it's so heavy. But do you even know what's worse than that? His wheelchair is too big for him to fit in his bathroom. He can't even fit through the door and use the toilet without asking for help," Paul writes.
"If he gets a new wheelchair he's going to be more comfortable and he'll do more things on his own. I think he would go super fast if he got this new chair and we can play more."
In just 27 days, the campaign, called "Keep Kamden Rollin,'" has exceeded its goal. At last check, Paul raised $6,025 through the campaign (the original goal was $3,900). The amount will cover the cost of a customized wheelchair.
Kamden has to do some final measurements and fill out some paperwork, but according to the GoFundMe page, his new chair should arrive in August.
Kamden has already tried out a demo wheelchair like the one he'll receive and his mom said she noticed a difference right away. He was out on the dance floor at a family member's baptism recently, rocking the chair from side to side.
"This new chair is a lot lighter," she says. "It will make things so much better. He could push himself more and do more."
A customized chair for a growing boy can open up so many opportunities for him that might not have ever been realized. Moving in different ways, navigating new terrains, and trying new activities. It's a game changer and a life changer.
Being able to help in such a meaningful way was a no brainer for Paul. He said he wanted to help Kamden because "he's a good friend and he's kind."
"He's helpful," said Kamden. "He just thinks about [me]. I like to have a friend who just thinks about [me]."
Paul's mother tells Babble, "It truly is a story about friendship and love and what it can accomplish. These little ones are teaching us all a wonderful lesson."