'80s And '90s Movies And Shows We're Thrilled To Stream For Our Kids
by Rachel Garlinghouse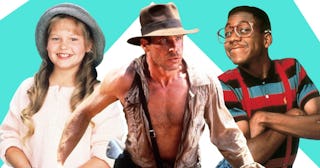 Scary Mommy and Michael Ochs Archives /Paramount Pictures/Fotos International/ /Getty
A few weekends ago (you know, before the COVID-19 pandemic really hit the U.S. with a vengeance), my family and I were at a state basketball tournament. I spent quite a bit of time in a hotel room with my youngest two kids while my husband took our two tweens to the games. On a particularly long afternoon, I logged on to our Netflix account so my son could pick a movie to watch. What popped up? A fantastic movie from my childhood that gave me all the 1990s vibes: Richie Rich.
We're big fans of Home Alone, so Richie Rich was just what we needed to pass the time. My son was thrilled. Could it be true? Was Macaulay Culkin, AKA Kevin McCallister, actually Richie? Of course, once you watch a movie, you get suggestions for similar movies and television shows. Soon, I was poring over our streaming subscription services, discovering movie after movie and show after show from the 1980s and '90s that I couldn't wait to introduce to my four kids. Would they be as wooed by each one as I was as a kid? Time would tell.
With so many of us practicing social isolation due to the coronavirus, we've all been challenged with the task of keeping our kids entertained. Whether or not we are tackling homeschooling, we still have many hours in the day where our kids are "bored," and we have to figure out what to do with them besides argue. That's where nostalgic childhood movies and shows come in to save the day.
Whether you subscribe to HULU, Prime Video, Netflix, or Disney+ (or if you're like us, all of them), you're bound to find some of those feel-good flicks and episodes that take you back to our own childhood. So pop the popcorn, pile on the living room rug with some pillows and blankets, and have fun kicking it old school.
HULU:
Family Matters
This was one of my two favorite childhood television shows. Who doesn't love Steve Urkel's antics, Grandma Winslow's wisdom, and Carl and Harriet's sarcasm? This show was a big deal when it came out in 1989 because it starred a black family and earned a prime-time slot on TGIF television alongside shows like Step by Step.
Free Willy
A troubled boy doing some forced community service at an aquarium learns that a whale (Willy, of course) is going to be killed — and does everything he can to save him. And in case you didn't already know, there's Free Willy 2 and Free Willy 3, both also available on HULU.
Full House
My kids didn't realize that Fuller House (which they can watch on Netflix) wasn't an original. I showed them some of my favorite episodes of Full House, like when DJ and Stephanie put a hole in their dad's wall. No one can forget Stephanie's signature catchphrase ("How rude!"), Uncle Joey's impressions, or Uncle Jesse's hair obsession.
Prime Video:
Good Burger
I can still recite lines from this 1997 movie starring Kel Mitchell and Kenan Thompson (who now is an SNL cast member) as teenagers Ed and Dexter. They work together to save Good Burger, the fast food restaurant they work for, before Mondo Burger puts them out of business.
Never Been Kissed
Drew Barrymore portrays a reporter who was relentlessly teased in high school (remember Josie Grossie?) and is assigned to go undercover as a high school student. After re-watching, I was surprised to see actresses Octavia Spencer and Molly Shannon. This cheesy flick reminds us that it's fun to make a new, first impression.
Netflix:
Hook
Released in 1991, this film stars Robin Williams as a grown Peter Pan who is no longer the happy and free boy he used to be. Grown up with a family of his own, he travels back to Neverland where he meets Captain Hook (Dustin Hoffman) and Tinkerbell (Julia Roberts), with the sole mission of saving his own children.
Ferris Bueller's Day Off
A snarky teen (Matthew Broderick) and his friends ditch school, using plenty of attitude and antics to help them escape their determined principal and Bueller's brown-nosing sister. This 1986 classic has some great one-liners that are sure to please your kids.
Indiana Jones
All four Indiana Jones films, starring Harrison Ford, are currently available for streaming on Netflix. In case you forgot, start with the first one, which is Indiana Jones: Raiders of the Lost Ark. Good news! The fifth movie is in the works, and yes, Ford is in it.
Disney+:
Honey, I Shrunk the Kids
Dad and inventor Wayne Szalinski creates a machine that accidentally shrinks his two children and two neighbor boys. In a race against time, he works to save them. Of course, follow it up watching it with Honey, I Blew Up The Kid, and get ready for another sequel, which is in the works.
Sister Act
Whoopi Goldberg disguises herself as a nun, living in a convent, to hide from the mob after witnessing a crime. Just like when she was a child in Catholic school, she has a hard time fitting in with the crowd. The music alone is a reason to watch this classic movie.
Boy Meets World
My sister and I loved watching this show about Cory Matthews, his family, his friends, and of course, his ever-wise principal. After watching all seven seasons, move on to the reboot, Girl Meets World, which is also available on Disney+.
To all my 1980s and 1990s fan-friends, you'll be sure to enjoy re-watching these as much as your kids will enjoy viewing them for the first time. Plus, some blast from the past watching sessions with the fam can be good for the soul during this tumultuous time in history.
This article was originally published on