'80s Characters I Wish I Could Have In My Life Right Now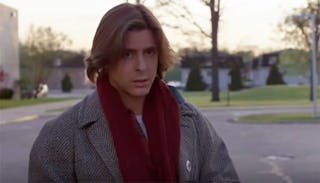 The older I get, the more integrity and character mean to me when it comes to relationships. I like to cut through the fluff and see the things that truly matter in a person.
The '80s were a really important time in my life, and these strong characters influenced the type of person I wanted to be and the kind of people I wanted to be friends with now:
1. Chris Chambers, Stand By Me. No doubt about it, back in the day I would have befriended the rebel kid with a bad family name and made him mine. He had a huge heart under a tough exterior and fought to keep the peace and do the right thing. He had the guts to stand up to Eyeball and persevered to become successful in life despite his circumstances. Guts and loyalty are always welcome here.
2. Billie Jean Davy, The Legend Of Billie Jean. She fought hard to get that $608 for the scooter that Hubie trashed, but in the fight it became all about the principle of the matter rather than the money. She used her power and influence for good, exposing the bad man who assaulted her and rescuing an abused child from his home. Fair is fair!
3. Rusty Dennis, Mask. The biker lady who pulled no punches pushed her deformed son to face that grueling first day at a new school alone. She also handed the principal's ass to him and showed her tender loving mother's heart through it all.
I'd proudly sit next to her and Gar at Rocky's graduation any day.
4. Jo Polniaczek, The Facts Of Life. The tomboy at the all-girls boarding school with an aversion to preppy Blair. She was tough as nails and had a no-nonsense air about her, but she would jump to the defense of her friends in a heartbeat. She is the character most like me, and our senses of humor would be totally in sync.
5. Mr. Miyagi, The Karate Kid. Who wouldn't want Mr. Miyagi as a father figure? He was cute as a button, moral and good and able to take out a gaggle of mean-spirited high school boys at the blink of an eye. It is a good man indeed who takes a fatherless boy under his wing to guide him through his struggles in life. Also, he mad DIY Halloween costume skills.
6. Gertie, E.T. the Extra-Terrestrial. It does not get any cuter than Elliot's adorable little sister, Gertie. She famously screamed when she first saw E.T., then proceeded to play dress up with him. I have boys at home, and we aren't planning to have more kids, but if we did I'd love a little girl like Gertie.
7. Mikey Walsh, The Goonies. We all need a dreaming adventurer in our lives. True, he believed in One-Eyed Willie, pirate ships and hidden treasure, and he led all of his friends on a booby-trapped adventure where they all could have died, but what a rush!
And when they ultimately got the treasure in the end, they gave it to their parents so they could save their houses.
8. Duckie, Pretty In Pink. Not afraid to be himself and display his sense of style, Duckie the sidekick never could quite make it past the friend zone with Andie. I find it admirable that when it hit the fan with Blane at prom, he did not bank on the golden opportunity and instead sent her to chase after him. That's the love of a true friend.
9. Samantha Baker, Sixteen Candles. I think Samantha represents the insecure girl in a lot of us at that age. She had an insane crush on the most popular boy in school, and she was afraid he wouldn't notice her, or that he would notice her. She was just trying to get through the pressures of life. In the end, she remained herself and she got the guy after The Donger got the girl and wrecked Grandpa's car.
10. John Bender, The Breakfast Club. A streetwise, witty conversationalist, John Bender would never make you wonder where you stand with him, especially if you've raided Barry Manilow's wardrobe. But once you get past the protective chip on his shoulder, you will find a true-blue friend who would have your back any time you need it.
He even gave the beauty queen a chance in the end. See you on Saturday!
11. Johnny Cade, The Outsiders. Johnny was another kid from the wrong side of the tracks facing the popular opinion that he wasn't going to amount to anything, yet he traded his life to save school children, knowing that he and Ponyboy would no longer be able to hide. And on his death bed, in a world that chewed him up and spit him out, he encouraged his friend to stay gold.
This article was originally published on