9 Things To Do In Hilton Head, South Carolina
by Jenny Altman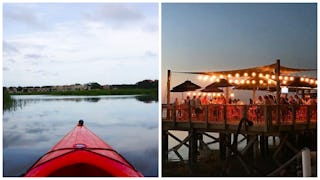 When it comes to taking a family vacation, we're all about the one-stop shopping. Give us a location that has great places to eat, gorgeous beaches, plenty of outdoor activities and kid-friendly venues and we are THERE. Hilton Head Island in South Carolina is one such place and one of America's favorite islands. With white-sand beaches that stretch for 12-plus miles, wildlife preserves and gorgeous coastal views with lots of restaurants, activities, and attractions, there's plenty of fun for both kids and adults. Here are our favorite spots and things to do with kids in Hilton Head, SC.
Best Places to Stay in Hilton Head
Well, you're going to need somewhere kid friendly to sleep while in Hilton Head, and lucky for you there are great options. If you're looking to add to your hotel reward points (free hotel room for another trip w out the kiddos?), the Shelter Cove has 2 or 3 bedroom properties (and a gorgeous pool!). Ocean view more your style? Then you'll appreciate the views at this beachfront property. If no hotel is kid-friendly enough for you, and you need your own house or apartment (mini kitchen? kids each get their own bedroom?), Airbnb has some of our all-time favorite Hilton Head charmers — from beachfront condos to spacious 3 bedroom villas to a designer townhome.
How to Get Around Hilton Head
If you really want to see the best of Hilton Head (and try out all the local ice cream shops), you'll need a car. Hertz has a pickup location at the airport and also close to downtown.
Best Experiences in Hilton Head With Kids
In your former life, you probably enjoyed quiet days on the beach, but let's be realistic and accept that kids need things to do. Put down their tech devices (and yours) and plan a few special experiences that are unique to Hilton Head. Every water adventure you could hope for exists here including a Dolphin and Donut Cruise,a Turtle Talk Beach Walk, and Paddleboarding at Skull Creek.
Take a Dolphin Tour
https://www.instagram.com/p/BVUwZ0iBuxJ/?taken-by=theseapinesresort&hl=en
There's something simply magical about dolphins and H20 SPORTS offers the best way to get up-close-and personal with Atlantic Bottlenose dolphins in their natural habitat, which you have the opportunity to see lots of in Harbourtown. Along the way you'll also spot a variety of shore birds such as pelicans, egrets, herons and you may come across sea turtles and manatees. Don't forget the camera!
Visit the Coastal Discovery Museum
The Coastal Discovery Museum is the perfect spot for your littlest conservationist and explorer. On the 68-acre property filled with winding, lush trails with views of majestic oak trees, you and your family will learn about the region's history, culture and art. The CDM's mission is to help their visitors "discover connections between air, land, water, and living things, for greater environmental awareness and to explore history, culture, and art to better understand ourselves and increase empathy toward others."
Gorgeous scenery and an opportunity to teach your kids about caring for their environment? Yes, please! Be sure to call ahead to make your reservation and ensure you get a spot.
Enjoy Some Hilton Head Ice Cream
Because no beach vacation would be complete without the requisite trip to the local ice cream shop for a taste of homemade ice cream, there are some fabulous ice cream shops you'll want to check out on your visit.
With flavors like Chocolate Cayenne, Cookie Monster, and Peach Pecan, even your pickiest child will find a flavor to their liking at Hilton Head Ice Cream. Looking for an adult only treat? Hilton Head Distillery teamed up with Hilton Head Ice Cream to make ice cream infused with their rum. Yes, really. This is not a dream.
And if those suggestions haven't whet your palette enough, you can visit the top ice cream joint in Hilton Head according to TripAdvisor, The Frozen Moo. The atmosphere is known for being delightful and the ice cream's delicious!
Chill Out at Coligny Beach Park
A family-friendly beach with well-appointed bathroom facilities and stunning views of the ocean makes Coligny Beach Park a must-see when you are in Hilton Head. The beach has changing rooms and outdoor showers so you don't need to worry about getting in your bathing suit before you arrive. There are also plenty of food options in the park if you decide to leave the picnic basket at home.
Make sure to snag one of the beach swings for a bit as you try to ignore your kids fighting over who gets to… ah, who cares? You're on vacation!
Go Kayaking
Explore Hilton Head Island's beautiful coastal habitat by kayak with Outside Hilton Head. A trained interpretive naturalist will lead you through the ever-changing tidal creeks and salt marsh estuaries, where you'll have a front row seat. If you're looking for another option, Kayak Hilton Head offers sunup and sundown tours where you just may see a dolphin!
Ride the Hilton Head Island Bike Trails
Hilton Head has more than 60 miles of public bike trails for you to explore on two wheels. Depending on what level of ride you want, you may consider the ride from Sea Pines to Coligny Beach Park or the 4-mile Heritage Road Loop.
If you're traveling without your own bicycle, there are several Hilton Head bike rental companies that would be happy to rent you one. Hilton Head Bike Rentals also offers different types of bikes, including kids beach cruisers, child tandems and baby gear.
Have Some Fresh Seafood at Hudson's
https://www.instagram.com/p/BVWDLYGh8rt/?taken-by=hudsonsseafood
You are forbidden from leaving Hilton Head until you visit, Hudson's Seafood House. Seriously, this place is amazing and you won't want to miss it!
Hudson's is world-renowned for good reason. Everything is fresh-caught (straight from the dock to your dining table) and homemade and guaranteed to delight your taste buds. The service, the view, and the atmosphere can't be beat. Pro-Tip: Wear stretchy pants, and do not forget to order peanut butter pie for dessert.
Hilton Head is the perfect place to take your family. Seriously, what are you waiting for? They have rum-infused ice cream just waiting to be eaten. If that's not a reason to plan your trip, we don't know what is.
Go Ziplining
ZipLine Hilton Head is perfect for the adrenaline junkies in your family. According to their website, you can "fly through the tree platforms as high as 75 ft off the ground with eight ziplines, two suspended sky bridges and towers overlooking the beautiful Broad Creek. Finish with our 900-ft. pulse-pounding dual cable racing zipline, designed with adrenaline junkies in mind."
Chill Out at The Sea Pines Beach Resort
Lay on the beach on some comfortable chairs while staff waits for you to be ready for your next frosty beverage. Sound like heaven? It is. Pina Colada with a dark rum floater? Yes, please.
Sea Pines Beach Club has thousands of beachfront vacation rentals right in Sea Pines if you want to do more than drink the day away there. There's also golf, tennis and a ton of activities you can do right there on the property.
Experience The Heavenly Spa
After all that kid time, you need a freakin' massage and Heavenly Spa offers signature treatments guaranteed to make you melt, which, after vacationing with your kids, is an absolute must. Heavenly Spa is part of the Westin Hilton Head Island Resort & Spa and has tons of great reviews on TripAdvisor for you to check out before you book.
Best Things to Pack For a Trip to Hilton Head
Packing for this trip is easy— anything goes on Hilton Head. And because no mama really has time to lay out specific outfits in advance for herself (not to mention every other family member), the formula is simple: A comfortable pair of comfortable flat sandals that will take you into town and onto the beach, a one-shoulder one-piece bathing suit that can be worn sun-up to sun-down, airy beach pants to cover it up and a versatile beach tote that can handle the sand. Add a put-together, athletic look for those Insta-worthy zipline adventures (the world's most flattering Alo Yoga pants and a butt covering sweatshirt will do the trick) and an easy dress it up or down maxi dress for dinner out, and you. are. done.
Although we only recommend picks we really love, we may earn a commission on purchases made through links from our site.
MORE: Things to Do in Miami With Kids
Best Family Spots in Beaufort, South Carolina
Places to Check Out in Charleston, South Carolina
This article was originally published on